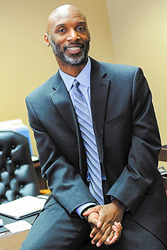 Listening is the big key.
Dallas, TX (PRWEB) November 19, 2015
Clifford A. Bailey, small business owner and chair of the National Minority Business Enterprise Input Committee, an organization which represents more than 12,000 small businesses, is known as a tireless advocate for minority and women-owned businesses. In a recent National Roofing Partners blog post, he offered specific suggestions on increasing supply chain diversity.
In the post, he explained why large corporations should have goals for the expenditures with minority contractors.
"As we all know," he said. "That which gets measured, gets done. If we have a goal and that goal is not met, we look around and find out why it did not occur."
"It's not only corporations which should have these goals," Clifford said. "It's also important for Minority Business Enterprises (MBEs) to have goals to help corporations meet their goals. I don't see them as separate and apart."
As a small business owner, Bailey has seen the effect of spending for minority goods and services first hand. His company – TechSoft Systems, Inc. – is headquartered in Ohio and was started in 1983. The company provides staffing, cybersecurity and IT services, including hardware and software, for companies that prefer to outsource these activities.
Clifford A. Bailey has a very clear vision.
"As the Minority Business Enterprise Input Committee (MBEIC) Chair of the National Minority Supplier Diversity Council (NMSDC), I have set some aggressive goals," he said, "At the beginning of the year, I got the committee to agree to a billion dollars in new spend. This will be met by MBEs connecting with corporations, as well as connecting among themselves. We want to reach this goal by December 31, 2016."
"This will have an added value of introducing corporations to the MBEs out there who are qualified to earn their business. This will also have the effect of having corporations sharing with MBE's where the opportunities might lie. The benefits to the corporation is that it will end up with a more diverse supplier base which will lead to innovative, creative, high-quality solutions."
In response to a prompt from Byron Stallworth of National Roofing Partners, Bailey offered advice for minority business owners who attend business conferences attended by large corporations and other MBEs.
"Every MBE should come prepared with a strategic plan," he said. "This plan should be focused on which companies or industries the MBE wants to speak with and what information they want to gather from these prospects in order to get a contract with them 12 or 15 months down the road."
"Once the MBE owner arrives at the conference, I suggest that they don't do what everyone else does – telling the corporation what their company does and how it does it. I would strongly suggest that the minority business owner asks the representative of the corporation 'what are your needs?' While this person may not be in the appropriate business group for the MBE, this is an opportunity to obtain the name of the person who is responsible for making these decisions for the organization. It is also appropriate to ask the corporate representative to make the introduction to the right person."
"Listening is the big key," Bailey noted. "I've heard from many companies that the biggest mistake small business owners – not just minority businesses, but all small businesses – is failing to listen closely and understand the corporation's needs or problems."