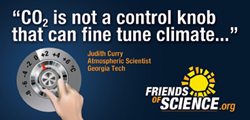 CO2 is not a control knob that can fine tune climate
Calgary, Alberta, Canada (PRWEB) November 18, 2015
Canada's new Environment Minister, the Hon. Minister Catherine McKenna was greeted with high expectations during her recent visit to Paris, saying climate change "… is a huge issue. I think Canadians are expecting us to start doing our part to tackle climate change, to reduce emissions." as reported by CTV News on Nov. 10, 2015, but Friends of Science Society's new report on GHG reductions, shows it's not so simple and "You Can't Get There from Here."
"Hon. Minister McKenna's enthusiastic twitter hashtag of #CanadaisBack, suggested that the new Liberal government will be more compliant in global climate treaties," says Michelle Stirling, Communications Manager for Friends of Science Society, "but based on the math, she may be in for a shock when it comes to GHG reductions in the transportation sector."
Canada is the second largest country in the world, is sparsely populated, endures extremely cold, snowy temperatures for about half the year and relies heavily on transportation.
"You Can't Get There from Here" is a plain language analysis written by Robert Lyman, an energy economist of some 37 years' experience and former public servant.
"Most young Canadians today believe that we can reduce global warming by doing things that would not greatly affect our lifestyle or cost of living. Mesmerized by the environmentalist chant that we are "saving the planet", young people simply refuse to believe that the changes entailed in meeting greenhouse gas emissions (GHG) reduction targets are difficult," he states in the opening.
There are three possible methods for reducing GHG emissions in transportation: reducing emissions intensity (i.e. improving fuel efficiency); shifting from one transportation mode to others; and taxing users to get them to travel or transport less.
None of them offer more than a sliver of reductions, according to Lyman's analysis.
As an example, looking at future emissions reductions targeted to be 70% by 2050 that would require cutting 495 megatons (Mt.) According to Lyman's report, that is more than the current emissions from transportation, oil and gas, electricity generation, and emissions intensive industry combined. What if no one was allow to drive? Eliminating cars and trucks altogether seems almost unthinkable given the importance of mobility for commuting, freedom of movement and trade in goods. Yet even such an extraordinary action would only reduce Canadian emissions from 2010 levels by about 77 Mt.
Friends of Science Society hopes the Canadian climate change negotiators stand up for Canadian industry which has substantially improved air quality by reducing polluting emissions over the past two decades, as displayed on YourEnvironment.ca. In terms of GHGs, Canada is a unique case as the second largest country in the world, exporting wood products, minerals, energy resources and agricultural produce for use by others.
There have been almost two decades of no warming, as reported in The Australian March 30, 2013 despite a significant rise in carbon dioxide (CO2). Friends of Science Society quotes atmospheric scientist Judith Curry in saying "CO2 is not a control knob that can fine tune climate," consequently the Canadian climate team should avoid any legally binding agreements on this uncertain science, and take time to evaluate the serious implications of climate targets in order to keep Canada as the "true north, strong and free."
About
Friends of Science Society has spent a decade reviewing a broad spectrum of literature on climate change and have concluded the sun is the main driver of climate change, not carbon dioxide (CO2). Friends of Science welcomes earth, atmospheric and solar scientists, engineers and citizens who challenge the alleged consensus on climate change.
Friends of Science Society
P.O. Box 23167, Mission P.O.
Calgary, Alberta
Canada T2S 3B1
Toll-free Telephone: 1-888-789-9597
Web: friendsofscience.org
E-mail: contact(at)friendsofscience(dot)org