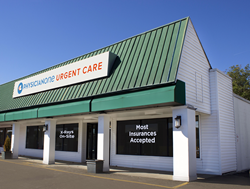 Orange, CT (PRWEB) November 20, 2015
PhysicianOne Urgent Care is excited to announce the expansion of their services with their eleventh urgent care center in Orange, Connecticut.
The new location, now open, is located in the Peck & Post Plaza at 521 Boston Post Road. The location is central to many other Orange amenities including Trader Joe's, 700 Degrees Pizzeria, and Starbucks. For those familiar with the area, they are located in between Costco and Home Depot.
"As we expand across Connecticut and into bordering states, we aim to provide high quality, convenient care in communities where it is needed the most," said PhysicianOne Urgent Care's CEO Lynne Rosen. "Urgent care is a growing industry offering medical care for non-life threatening illnesses and injuries. The CDC estimates that over a quarter of all ER visits are for non-emergency conditions, and the average patient could save as much as $600 for the same level of treatment at an urgent care facility."
"With an accomplished team of experienced providers and health care professionals, PhysicianOne Urgent Care is ideally equipped to ensure that you and your family receive superior health care and unparalleled customer service," said Chief Medical Officer Dr. Jeannie Kenkare. "We are excited to bring our services and highly trained team to Orange and the surrounding community."
The opening of the Orange clinic falls in line with the strategic expansion plans the company has laid out. PhysicianOne Urgent Care now has eleven clinics that are currently in operation across Connecticut with plans of an additional clinic in Waterbury to open in December.
PhysicianOne Urgent Care provides expert walk-in medical care at an affordable price 365 days a year for non-life-threatening illnesses and injuries. Services include treatment for general illness and injuries, X-rays, stitches, physicals, flu shots, and more. Hours of operation are 8 a.m. – 8 p.m. during weekdays, and 9 a.m. – 5 p.m. on weekends and holidays.
About PhysicianOne Urgent Care
Established in 2008, PhysicianOne Urgent Care was the first in the market to be accredited and certified by the Urgent Care Association of America. PhysicianOne Urgent Care takes great pride in helping make families live a bit easier. PhysicianOne Urgent Care's high quality medical care is a cost effective alternative to the Emergency Room as well as a convenient alternative to primary care physicians during off or peak hours. PhysicianOne Urgent Care provides walk-in treatment for a wide array of illnesses and injuries. On-site services include x-ray, lab services, and a medication dispensary.
All locations are open 365 days a year. Experienced providers are on-site at all times. Most insurances and Medicaid accepted. For more information, please visit http://www.PhysicianOneUrgentCare.com.