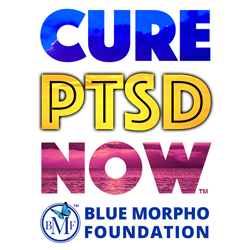 At last, we have a solution for the world's mental health crisis but in order to make an impact, we need global support.
Denver, Colorado (PRWEB) November 19, 2015
Hamilton Souther, founder of the Blue Morpho Foundation (BMF) today announced the launch of his Cure PTSD Now™ Initiative. Blue Morpho Foundation, a 501(C)(3) non-profit organization and Mr. Souther developed this game-changing initiative to provide comprehensive treatment for all those individuals and families affected by PTSD. To raise awareness for the cause, an Indiegogo campaign has been launched by Souther and the vast community of individuals already benefitting from his organization's work.
Hamilton Souther has dedicated the last fourteen years of his life to studying human consciousness and working with PTSD survivors from around the globe. Through his unique experience and training, he has discovered a remarkable treatment protocol for virtually all trauma-based mental illnesses. His critical treatment model is based on an entire consciousness-shifting methodology, developed by Souther himself, called "Activated Balanced Consciousness" or ABC.
Souther, who is widely known for being the subject of one of National Geographic magazine's most widely read and shared stories explains, "The cure for PTSD hinges on an understanding of shifting consciousness, which explains the seminal relationship between the human brain and daily life experience. The unfortunate reason that most of the current treatments are failing is based on the fact that they simply don't treat the illness at its epicenter. They mistake the symptoms of the illness – like flashbacks, panic attacks, and sleep issues – for the illness itself, and then struggle to treat those symptoms, while allowing the core issue to progress."
He continues to say, "I have devised a treatment method that is part technology, part knowledge, and part technique, with the capacity to treat mental illness at its source -- consciousness itself. It's easy to recognize that a patient suffering from mental illness has experienced two important shifts in consciousness -- a negative or damaging shift in consciousness during the trauma itself and a second shift to turn that traumatic event into a habitual reality. To effectively arrest the illness, there needs to be a third shift in consciousness, which is a peak experience to allow for a positive shift and a method to integrate it." Souther concluded. "With each new patient, I discovered that the same consciousness-shifting mechanisms that produced the illness could be used to control it. After countless sessions with struggling individuals during the last 14 years, and successfully treating tens of thousands globally, I engineered a technology-based protocol that allows a therapist to guide a patient to a healed state of consciousness. At last, we have a solution for the world's mental health crisis; however, in order to make an impact, we need global support to share the message and ease the suffering."
Blue Morpho Foundation has launched a special Indiegogo campaign to elevate international awareness and support from all those impacted by PTSD and mental health issues. Hamilton Souther is issuing a personal call to action for everyone that has experienced trauma, and the suffering it causes, to take a stand and make this treatment available to the world. For more information on the Cure PTSD Now™ initiative, visit the Blue Morpho campaign page.
For all media inquiries, please contact Jed Wallace at (310) 403-0559 or jed(at)streetrelations(dot)com.