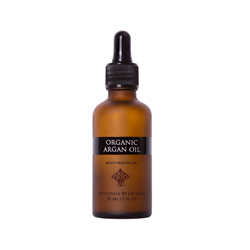 Because we use recycled materials for all our packaging, Argan by Lucia Bay is good for you, good for the environment and good for the world.
San Diego, CA (PRWEB) November 18, 2015
Bay Rum Oil from the West Indies? Pure Argan Oil, the liquid gold of Morocco? Lend gift-giving -- and your skin! -- a Lucia Bay glow this holiday season, drawing on the age-old secrets of botanicals and essential oils from distant climes. Get 20 percent off of purchases over $50 with the code HOLIDAY2015 at http://www.luciabay.com. Treat the men in your life to Lucia Bay's Bay Rum Face & Body Splash. Tuck Argan Oil by Lucia Bay into your own stocking. With each purchase, enjoy "giving back" with charitable proceeds that benefit the earth and those in need.
Lucia Bay's Argan Oil for men is a simple, certified organic oil that serves as a multi-purpose grooming product with a few drops soothing skin and smoothing the hair. The latest addition to the California company's all-natural skincare and haircare line packs an age-defying punch, letting every man reap the benefits Moroccans have enjoyed for centuries. A new and improved formula, Lucia Bay's Face & Body Splash features the gorgeous fresh scent and nourishing properties of another exotic treasure, the Caribbean's Bay Rum Oil. The company's best seller revitalizes pores, balances your skin's pH, and improves skin tone with just a quick splash.
Both products offer benevolent benefits as well. Women's cooperatives process Argan tree nuts, deriving their livelihood from cold-pressing the oil for distribution. Proudly made in the USA, a gift of Argan Oil not only supports the collectives but it benefits the Quest Food Exchange in Vancouver. Both products are sustainably sourced and proceeds from each sale of the Bay Rum splash benefit ocean research at Scripps Institute of Oceanography. "Because we use recycled materials for all our packaging, Argan by Lucia Bay is good for you, good for the environment and good for the world," says Brian Buchanan, the company's founder.
Especially formulated for men, the Argan oil is lightly scented with Lucia Bay's exclusive blend of essential oils. Filled with antioxidants, Vitamin E and fatty acids, Argan is certified organic and is paraben-, sulfate- and toxin-free. It adds a luster to hair, with just a drop or two rubbed into the palm and run lightly over styled hair. It comes in a 50 ml dropper bottle and costs $44.
Apply Bay Rum Face & Body Splash after showering and shaving, and use as a quick pick-me-up during the day or before heading out at night. With the West Indian bay tree oil as its base, this essential blend will leave your skin feeling clean, smooth and refreshed. It comes in a 6.7 oz (200 ml) bottle and costs $40.
About Lucia Bay
Based in San Diego, California, Lucia Bay is a high-end personal beauty and grooming products brand that specializes in all-natural, premium skin and haircare products, soaps and splashes. With a skincare line made exclusively in the USA, Lucia Bay uses recycled materials for all of its packaging. In the United States, Lucia Bay's men's grooming products are available in fine retailers, high-end barber shops and online at Orvis.com, UncommonGoods.com and LuciaBay.com. A portion from every sale of Lucia Bay products goes to causes and organizations that support the health and care of our oceans. Visit http://www.LuciaBay.com or connect with us on Facebook, Instagram and Twitter to learn more.