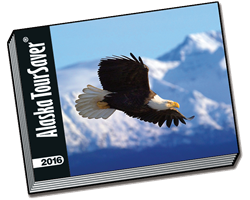 Many of my all-time favorite activities, tours and attractions are included in the Alaska TourSaver book.
Anchorage, Alaska (PRWEB) November 19, 2015
The 2016 edition of the Alaska TourSaver now is available for purchase. There are 2-for-1 travel deals on the Alaska Railroad, on hotels around the state, on adventure packages, fishing charters, tours and excursions. With 2-for-1 savings of more than $22,000, travelers can recoup the purchase price of $99.95 using one or two coupons.
A trip to Alaska is the trip of a lifetime. Glaciers, wildlife, fishing and incredible scenery—all in one package. You can buy one of those nicely-wrapped Alaska packages and it can cost you a fortune. Many people do.
Smart travelers take advantage of local expertise for insider knowledge in Alaska. Alaska Travel Guru Scott McMurren publishes tools for independent travelers. A longtime travel columnist for the state's largest newspaper (the Alaska Dispatch News), McMurren also publishes a subscription newsletter (free) full of insider tips: the Alaska Travelgram.
Another powerful tool published by McMurren now is available: the Alaska TourSaver book. The 2016 edition has more than 130 2-for-1 deals, designed for independent travelers to save on trips around the state. The book sells for $99.95.
This coupon book has no Subway sandwich coupons. There's not a single nail salon, dog wash or yoga studio listed. Only travel deals are included: fishing trips, train rides, day cruises, helicopter tours, adventure tours and other special experiences you'll find nowhere else.
"I've traveled extensively in Alaska for more than 35 years," said McMurren. "Many of my all-time favorite activities, tours and attractions are included in the Alaska TourSaver book," he said.
Here's a Top 10 list of McMurren's must-do activities in Alaska, all of which are included in the 2-for-1 Alaska TourSaver:
10. Columbia Glacier Cruise with Stan Stephens cruises in Valdez.
9. Helicopter tour over Knik Glacier, near Anchorage.
8. Deep-sea halibut fishing charter in Homer on the m/v Sundy.
7. Alaska Railroad trip from Anchorage to Denali National Park.
6. Riverboat Discovery tour on the Chena River in Fairbanks.
5. Alaska Whale Watching in Juneau.
4. White Pass & Yukon Route rail tour in Skagway.
3. Alaska Canopy Adventure Zipline tour in Juneau.
2. Misty Fjords Flight Seeing Tour in Ketchikan.
…and the number-one 2-for-1 travel adventure in Alaska this year:
1. Staying at the Kennicott Glacier Lodge in Wrangell-St. Elias National Park.
For more information visit: Alaska TourSaver
More free travel resources for independent travelers:
COMING SOON: The Alaska TourSaver App for iPhone and Android.
FACEBOOK.com/Alaska.Travelgram
TWITTER.com/AlaskaTravelGRM