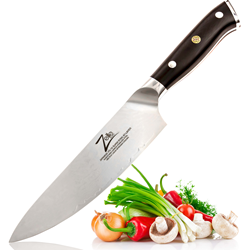 Razor sharp, fantastic edge retention plus stain and rust resistant
(PRWEB) November 23, 2015
Ben Clarke, Co Founder at Zelite explains, chefs all around the world have had to live with a trade off in performance with their kitchen knives primarily due to material property restrictions. If sharpness and edge retention is the most important feature, then the typical choice would be a high carbon knife. However, the downside here is they need a lot of care and attention or they rust and stain. A lot of home chefs prefer low maintenance chefs knives where staining and rust is less of a concern, so they choose stainless steel designs. However, now it isn't possible to have razor sharpness and good edge retention because the material properties don't allow this.
This is where Zelite has revolutionized the industry introducing their Zelite Infinity 8 inch chefs knife that offers both sharpness and edge retention, plus stain and rust resistance. Clarke explains, "we took the highest-grade VG10 Super Steel from Japan as the blade core and combined it with the highest grade SUS410 High Carbon Stainless Steel for the outer layers, then using the same techniques as used for making Samurai Swords forging and folding the metal upon itself, we have been able to produce a knife that takes the benefits from both steels." Clarke then goes on to say, "not wanting to stop there, we further enhanced the mechanical properties by utilizing our cryogenic cooling heat treatment process creating a blade that is now fully optimized with a Rockwell hardness of HRC 61+/-1". Zelite prepared a product demonstration video that highlights the main benefits and feature of the product.
A local chef who has been using the chef's knife as part of a trial commented, "not only does this knife solve the sharpness-stain issue, Zelite have taken their market feedback regarding what chefs want from their knives and have incorporated that into their design. Features such as its tapered bolster making it particularly suited for the pinch grip; full-tang enhancing its balance and control; full blade design meaning you can cut the entire length of the blade; and many more…".
Although ZELITE is a new company, they insist they are thinking big and plan to gain customer loyalty and recognition by offering a product that is not only superior than the competition, but one that is backed by a risk-free money back lifetime guarantee. This coupled with outstanding customer service; they believe is what will set them apart from the completion.
Clarke, Co-Founder of Zelite Limited stated, "although we have been working very hard to spread the word about our product, we did not anticipate such a large demand right out of the gate. These products have literally landed on Amazon FBA fulfilment center shelves and are immediately being picked, packed and shipped to our customers".
A TOP10 Hall-of-Fame Amazon Reviewer gave his thoughts about the Zelite Infinity Chefs Knife commenting' "it cuts like the proverbial hot knife through butter".
The Zelite Infinity 8" chef knife is sold exclusively on Amazon.com and for a limited time only they are offering a 10% introductory discount by applying the code 'DISC10XX' at the checkout.