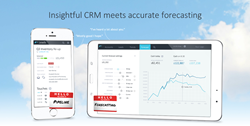 DURHAM, New Hampshire (PRWEB) November 19, 2015
Azurepath LLC has launched a cloud-based solution for businesses that combines insightful sales tools with precise cash forecasting. The affordable and user-friendly software offers one touch pipeline, performance and cash flow insights to help businesses grow.
Azurepath is built from the ground up to leverage today's mobile environment and delivers a unified experience across laptops, tablets and phones. This consistency across devices results in rapid adoption by sales teams. Business owners and sales managers will appreciate not having to run a single report or set up complex dashboards in Azurepath, as the answers to a business' most important questions are automatically generated in real-time and at their fingertips. Questions such as "How is my sales rep doing versus last month?", "What was sales pipeline this time last year?", and "What will cash flow be 120 days from now?" are now simple, at a glance answers.
"Azurepath was built out of necessity. Simply put, we felt like our outdated and expensive CRM software was letting us down. We added tons of information to it but were provided with few insights in return. With Azurepath, we built what we felt any business would want, a mobile-friendly decision making tool that turned the information flow dynamic upside down. Azurepath starts generating invaluable sales and finance insights from day one that will help any size business grow." said David Ramsay, Azurepath Founder.
Azurepath is available globally, in multiple currencies, and offers a free sixty day trial period.
Azurepath LLC
Durham, New Hampshire
United States
info(at)azurepath(dot)com
http://www.azurepath.com
+1.866.333.2007