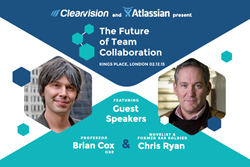 One of the key challenges businesses today face is communication. Software can solve these challenges and this event will show attendees how.
(PRWEB UK) 19 November 2015
The Future of Team Collaboration brings market leading knowledge, demos of the latest tools, and discussions that will introduce attendees to the latest tools and trends in collaboration.
Keynotes from BBC's Professor Brian Cox and SAS veteran turned author Chris Ryan will leave attendees both inspired and motivated to make improvements to the way their teams collaborate.
The event will take place in the heart of London, at Kings Place, just five minutes from King's Cross Station, on December 2nd.
The event marks the end of a landmark year for Clearvision, the world leading software solutions expert. The company has trebled in size in recent years, thanks in part to its position as as an Enterprise Atlassian Expert.
Silicon Valley giant Atlassian will feature heavily on the day, with the latest announcements from its flagship event, the Atlassian Summit in San Francisco, being discussed for the first time on this side of the Atlantic.
Spencer Frasher, Head of Collaboration, and Neal Riley, Enterprise Advocate, are flying to London for the event and will be giving talks on recent developments around JIRA, Confluence, HipChat and more.
Professor Brian Cox's keynote will focus on the role of collaboration in solving some of the biggest challenges facing the human race and how to get the most out of teamwork when working with the brightest minds in science.
Chris Ryan will talk about his heroic experiences during a tour of Iraq in 1991, and how effective communication can mean the difference between life and death.
Other talks from thought leaders such as Peet Denny from LV=, Helen Beale from Ranger4 and Dr Ian MacDonald from SwiftKey make up a packed agenda.
More on the talks and the day's schedule can be found via the event website at: teamwork.life
All presentations will be interactive via iPad conferencing. Each attendee will receive an iPad as part of their ticket price, which will come preloaded with an app designed specifically for the event.
This will give delegates:

Access to the day's agenda and map of the venue
Information on the speakers
Information on the sponsors
Information on collaborative solutions
The ability to interact with discussions, ask speakers questions, and much more
The app will also grant attendees exclusive access to the latest build of Clearvision's flagship product Spectrum.
Spectrum Product Manager, Mark Roke, said: "Solving challenges around collaboration is core to Spectrum's purpose. By adding a layer of visibility and increased usability to the leading Enterprise apps on the market, Spectrum can improve productivity significantly."
Spectrum was a major talking point at the Atlassian Summit and is sure to be focal again at The Future of Team Collaboration.
Attendees will have the opportunity to interact with other groundbreaking collaborative solutions from the likes of:
Brikit: Creators of Collaboration Hubs designed for distributed teams.
QASymphony: Pioneers in enterprise-grade QA testing.
Sonatype: Creators of Nexus, the leading repository management solution.
Hotovo: Long term partners for outsourced software development.
Clarity 4D: Colour personality profiling - for everyone.
Service Clarity: Business dashboards that enable instant reporting of cloud metrics.
Clearvision's Marketing Director, Simon Wood, said: "We are delighted to bring so many specialists on collaboration together for one day of thought-provoking, inspiring and hopefully motivational discussions with industry leaders in the UK."
"Britain has always led the way when it comes to business on a global scale. One of the key challenges businesses today face is communication. Software can solve these challenges and this event will show attendees how," he added.
The event promises to give attendees concrete solutions to their collaboration pain points , inspired by real use cases, that they can apply to the way their teams operate. Tickets are selling quickly but the remaining available tickets can be purchased here.
Editor notes
For any questions about the event please contact marketing(at)clearvision-cm(dot)com. More information regarding the event can be found at teamwork.life.
About Clearvision: Clearvision is a ground breaking software development company, specialising in agile working and collaborative tooling and processes. As world leading software experts, the Clearvision team provides some of the biggest enterprise businesses around the world with professional services centred around the Atlassian stack, Git, and Open Source tools, including training, support, hosting, consultancy and procured Atlassian licensing. The Clearvision mission is to bring about a more efficient, collaborative and cost-effective software development industry – and most importantly, to show companies how they can save time and money without having to compromise on quality.