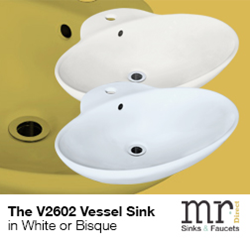 ...Vitreous china results in the most durable, smooth, and stain-resistant finish available.
Toledo, Oh (PRWEB) November 30, 2015
MR Direct is proud to introduce yet another addition to their long line of porcelain vessel sinks – the V2602. The simple beauty and durability of porcelain keeps it ranked as a top-seller among all sink materials on the market. Likewise, vessel designs, which rest upon the vanity rather than set into it, have shown no signs of waning in popularity. As a result of this market analysis, the MR Direct design team continues to develop innovative styles in this genre. The V2602 is the latest creation.
Because the porcelain vessel sinks in the MR Direct collection come in all manner of shapes and sizes, the V2602 was designed to fill a special niche for those consumers who desire a wide, oval profile with plenty of depth. At 24¼ inches, this model is one of the widest vessels in the collection; and its top-to-bottom outer measurement of 8 1/8 inches makes it the tallest.
The V2602 has several additional features not found in all porcelain vessel sinks. A ledge along the backside of the oval basin gives the sink an open seashell form when viewed from above. The platform also has a pre-drilled hole which will easily accommodate any style of single-handle faucets. Another pre-drilled overflow hole is found in the back wall which acts as a safety valve when the sink is filled with water.
As with all MR Direct porcelain designs, the V2602 model is constructed from a finer grade of clay and fired at higher than usual temperatures. This creates what is known as true vitreous china, the superior grade ceramic in the industry. The triple glazing and triple firing involved in making vitreous china results in the most durable, smooth, and stain-resistant finish available. Both brilliant white and soft bisque colorings are available.
The V2602 can be accented with any MR Direct single–handle faucet and a pop-up drain, in a choice of four metallic finishes. More information on the V2602, faucets, and accessories can be reviewed by visiting http://www.MRDirectint.com.