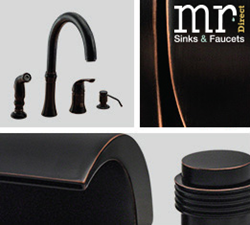 In the least, it will stand out and gain the attention and admiration of anyone using the room
Toledo, Oh (PRWEB) November 20, 2015
The selection of metallic finishes on MR Direct http://faucets is undergoing an expansion. Antique bronze, a very distinctive deep-toned coating, is the newest addition; bringing the total number of color options to four. Its profound, dark chocolate finish nearly approaches a black appearance and features thin copper-colored highlights along select edges.
MR Direct touts several advantages to choosing this new antique bronze finish. In the least, it will stand out and gain the attention and admiration of anyone using the room; especially if set up in contrast to a white or light-colored sink. Its satiny surface will diminish the visibility of any water spots or residue, and it is easy to clean. A room can take on a more unified appearance if the dark complexion of this faucet matches up with other deeply-colored accessories therein. Or, it just might provide that much-needed bold accent in an otherwise light-toned space.
No matter how it is utilized, a faucet finished in antique bronze offers a stark alternative to the ever-popular bright chrome coating traditionally selected for a home remodeling project. And, at MR Direct, stepping out of the ordinary with antique bronze is not an expensive option. The price differential from the basic chrome finish is relatively small when compared to its competitors.
It should be noted that all four MR Direct finishes: brushed nickel, oil-rubbed bronze, chrome, and now antique bronze, are produced using a process known as PVD (Physical Vapor Deposition). Using vacuum coating techniques, a metal vapor is created and applied to the faucet in thin layers. This procedure results in a very durable, molecularly-bonded finish which is resistant to chipping, tarnishing, and corrosion. The finish is not only beautiful, but helps mask any minor scratches or blemishes which may occur over time.
For a distinctive and durable difference in the bath or kitchen, the new antique bronze finish offered by MR Direct deserves consideration. All faucet finishes can be viewed, and their care instructions learned, at http://www.mrdirectint.com.