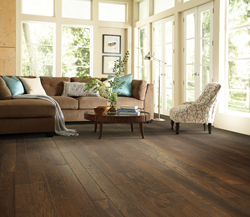 Sixty-six percent (66%) of the products Shaw manufactures are Cradle to Cradle Certified.
Washington, D.C. (PRWEB) November 18, 2015
The 2015 Greenbuild show home features sustainable engineered hardwood and custom area rugs from Shaw Industries.
The 2015 Greenbuild Unity Home–a 1,620-square-foot demonstration show home – is on display at this year's Greenbuild International Conference and Expo, in Washington, DC. November 18-19, 2015. The home showcases how high-quality design, engineering, and construction can be combined with practical and affordable features and state-of-the-art products and technologies to maximize a home's performance, resilience, and sustainability, while enhancing the comfort, health, and security of those who live there.
BUILDER® magazine used these principles in selecting the team of building experts that includes New Hampshire-based builder Unity Homes and the Cradle to Cradle Products Innovation Institute®, along with hand-selected product manufacturers and technical consultants. The end result, based on Unity's affordable contemporary Zŭm model, will be a LEED Platinum*, WaterSense certified, net zero-energy demonstration project that includes a full array of Cradle to Cradle-certified products.
"Sixty-six percent (66%) of the products Shaw manufactures are Cradle to Cradle Certified," states Paul Murray, vice president of sustainability and environmental affairs at Shaw Industries. "The 2015 Greenbuild Unity Home showcases to tens of thousands of building industry professionals the beautiful, durable, sustainable products available to create high quality homes with materials that have met stringent standards for material health, material reuse, energy and water stewardship and social responsibility."
Shaw products featured in the home:
EPIC® Plus Engineered Hardwood
Style – Mineral King
Color – Crystal Cave
All EPIC® Plus products are Cradle to Cradle CertifiedTM Silver and meet GREENGUARD indoor air quality requirements.
Just as the successful launch of EPIC® changed the hardwood industry back in 2006, Shaw's latest breakthrough EPIC® Plus built with StabilitekTM is changing the industry yet again. StabilitekTM core is built for high performance and lasting durability. Constructed from wood fibers bonded with proprietary chemistry, StabilitekTM holds up to the challenges of climate fluctuation and sub floor moisture. Glue down, float, nail or staple installation is simple with our newly designed tongue-and-groove system that ensures quick, easy installation and provides joint integrity.
-More -
Shaw's award winning design team has crafted a collection of 50 new EPIC Plus styles. Featuring stunning designs in oak, cherry, maple & hickory, EPIC Plus is available in 3", 5", 6 3/8" and mixed widths to create a variety of distinctive looks.
Custom Area Rugs
Collection: Life HappensTM
Styles: It's All Good & Quite Durable
Color: Opulence
Sizes: 11'x16', 8'x10', and 6'x8'
Fabric trim in color Khaki
The Life Happens collection features LifeGuard™, a revolutionary carpet protection system that covers the entire product, from face fiber to backing. Carpets featuring LifeGuard are treated with Shaw's patented R2X® Stain and Soil Resistance Protection, the standard of excellence in the industry, while a patented 100% thermoplastic commercial-grade backing provides a moisture barrier that is highly resistant to liquids soaking into the carpet padding and subfloor. All Shaw nylon carpet is Cradle to Cradle CertifiedTM Silver.
Shaw's Cut-A-RugTM program offers consumers the opportunity to create a rug from our carpet collections and to customize that rug with the shape, size, color and trim of their choice. This helps them create an even more special ambiance in their home and plays into the trend of customization and having your home reflect your personality.
Learn more about the 2015 Greenbuild Unity Home, in Builder Magazine: Construction Starts on The 2015 Greenbuild Unity Home.
To learn more about the expansive portfolio of sustainable products available from Shaw Floors, visit http://www.shawfloors.com and learn more about Shaw Industries' sustainability initiatives at http://sustainability.shawinc.com/.
About Shaw Industries
The world's largest carpet manufacturer and a leading floorcovering provider, Shaw Industries Group, Inc. is a vertically integrated manufacturer that supplies carpet, hardwood, laminate, resilient, tile & stone flooring products and synthetic turf to residential and commercial markets worldwide. A wholly owned subsidiary of Berkshire Hathaway, Inc. with more than $4.8 billion (USD) in annual sales and more than 22,000 associates, Shaw is headquartered in Dalton, Georgia, with salespeople and/or offices located throughout the U.S., as well as Australia, Canada, Chile, China, India, Mexico, Singapore, United Arab Emirates, and the United Kingdom. For more information, visit http://shawinc.com.
*The 2015 Greenbuild Unity Home has been planned, designed, constructed, inspected, and tested according to LEED for Homes version 4 program requirements and is anticipated to achieve Platinum Certification when moved to its permanent site in New Hampshire after Greenbuild.
Cradle to Cradle CertifiedTM is a certification mark licensed by the Cradle to Cradle Products Innovation Institute.
"BUILDER" is a registered trademark of Hanley-Wood, Inc.