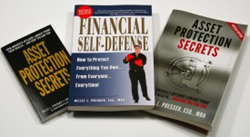 For every 60 minutes you spend making money, spend 60 seconds thinking about how to protect it!
Boca Raton, FL (PRWEB) November 19, 2015
No business is too small to incorporate because no business is safe from lawsuits. Obviously, the larger enterprise has more need for corporate protection because it is a larger lawsuit target, but still, no business, no matter how small or seemingly safe, is immune from legal and/or financial disasters.
1. The Corporation Can Create a Barrier Between Personal Assets and the Corporation's Creditors
In other words, you gain "inside-out" protection. You personally insulate yourself from the debts of the corporation. But this too has its limitations. If you own a corporation and get sued by a personal creditor, your personal creditor can claim the shares you own in the corporation. For a corporation to give you inside out protection, you must transfer your personal wealth to the corporation. You would then no longer personally own your boat, car, paintings, etc.; instead your corporation would.
2. How Assets Titled to the Corporation can be Seized by Creditors
If you own a controlling interest in the corporation, your creditor could obtain indirect control of your corporation's assets and then liquidate the corporation and claim its assets. Therefore, you can never safely use the corporation alone to protect your personal assets. You must use a corporation in combination with other asset protection tools to adequately shield your personal assets. Nevertheless, a corporation can provide a temporary shelter for personal assets. Your personal creditor could not directly claim the assets owned by the corporation, however, they could seize your corporate shares. That's the problem. Your ownership interest in the corporation can be seized and controlled by your personal creditor. From our view, the only place for the corporation is in business planning – and even then the corporation is less frequently the entity of choice for most small businesses.
3. The S Corporation does not offer any Additional Asset Protection
The corporation can be designated as an C corporation or an S corporation. The major difference between the two is that the C corporation can be publicly traded on the stock market whereas the S corporation cannot. Also, the C corporation has double taxation, whereas the S corporation benefits from pass-through taxation. Furthermore, there are restrictions as to who can be stockholders in an S corporation. One restriction is that S corporation shares cannot be owned by other entities. That limits your ability to protect your stock ownership and makes the S corporation an undesired entity form for asset protection. Finally, despite its differences, S corporations and C corporations provide the same limited liability.
4. Tips for more Effective Asset Protection Alternatives
Instead of the corporation, we use limited partnerships ("LP"), limited liability companies ("LLC"), irrevocable trusts and/or other protective firewalls to shelter your stock ownership in a corporation. Limited liability companies, in particular, are charging order protected and unattractive to creditors as there is no direct route to the LLC's assets. And, we rarely use corporations in our planning to protect personal assets, since the corporation offers no protective advantages over LLCs or LPs.
5. Convert your Corporation to an LLC for Additional Protection
If you already own a corporation and are interested in exploring the benefits of an LLC, it is not too late! One great option is to convert your corporation into a limited liability company. These conversions aren't as difficult as you may think and may be advantageous to your asset protection plan. Further, if you are concerned with taxation, you should know that the benefits of S corporation taxation can be applied to your converted limited liability company the same way as they can be applied to your corporation.
The Presser Law Firm P.A., Asset Protection Attorneys, represents individuals and businesses in connection with the establishment of comprehensive Asset Protection plans that incorporate both domestic and international components.
Visit the Law Firm's Visit the Law Firm's website (http://www.AssetProtectionAttorneys.com) for access to educational material on asset protection, business law, estate planning, and probate including webinars, articles and detailed legal explanations.
Contact The Presser Law Firm, P.A., Asset Protection Attorneys for a Complimentary Preliminary Consultation with one of our attorneys or to receive complimentary copies of our latest best-selling books on Asset Protection.