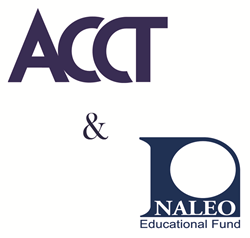 Washington, D.C. (PRWEB) December 02, 2015
The Association of Community College Trustees (ACCT) and the National Association of Latino Elected and Appointed Officials (NALEO) Educational Fund are pleased to announce a new partnership to create the ACCT/NALEO Education Prep Academy, a one-day educational academy to be held on February 8, 2016 in advance of the Community College National Legislative Summit in Washington, D.C. The Summit annually draws more than 1,000 community college trustees, presidents and other advocates to the nation's capital to advocate on behalf of community colleges at the federal level.
"With Latinos being the second largest population group in the United States, the educational attainment of Latino students is intrinsically connected to the nation's future prosperity and success," said NALEO Educational Fund Executive Director Arturo Vargas. "The steady growth of this student population makes it imperative that Latino students benefit from experienced and effective education policymakers in their communities. That is why we are excited to partner with ACCT to support the leadership role of Latino community college trustees and policymakers in developing and implementing strategies for ensuring that more Latinos are completing college."
"Approximately 2.4 million community college students identify as Latino or Hispanic," said ACCT Chair Roberto Zárate, a trustee at Alamo Colleges in Texas. "It is vitally important for college governing boards to understand and be able to integrate cultural and linguistic considerations that influence policy issues, including pre-collegiate education and the alignment of K-12 school systems with our colleges."
According to the Pew Research Center, Hispanic Americans make up 17.1 percent of the population, with only six percent of Hispanic people being foreign born. "ACCT and others in the community college sector have been laser-focused for the past several years on a movement to improve college completion rates," said ACCT President and CEO J. Noah Brown. "We are excited to work with NALEO Education Fund to improve completion rates among Latino students, who comprise 21 percent of the national community college student body."
The ACCT/NALEO Academy is an effort to conduct professional development services in order to enhance knowledge and leadership capacity of community college trustees and other policymakers on key issues pertaining to college completion.
The goals of the ACCT/NALEO Academy are to:

Provide professional development and policy training for Latino policymakers via a one-day training prior to the 2016 Community College National Legislative Summit, February 8-11;
Raise policymakers' awareness and understanding of current college completion policy issues, including a focus on K-12 alignment to the community college sector, with an emphasis on developmental education;
Increase Latino policymakers' knowledge of data, best practices, and policy options pertaining to developing a college completion agenda for all community college students; and
Facilitate discussion to develop policymakers' action plans in their communities and states.
Following the ACCT/NALEO Academy, ACCT and NALEO Educational Fund also will develop a best-practices white paper highlighting retention efforts that help to increase community college degree or certificate completion in order to help Latino policymakers better understand, access, and address student financial aid funding, housing and childcare issues, as well as student support services.
About the Partners
The Association of Community College Trustees (ACCT) is a non-profit educational organization of governing boards, representing more than 6,500 elected and appointed trustees who govern over 1,200 community, technical, and junior colleges in the United States and beyond. For more information, go to http://www.acct.org.
NALEO Educational Fund is the nation's leading non-profit organization that facilitates the full participation of Latinos in the American political process, from citizenship to public service. Visit http://www.naleo.org for more information.