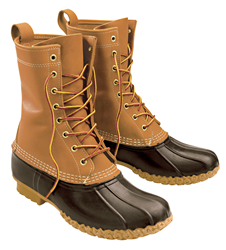 A lot of people in the Cincinnati area may only know us through our catalog or web site, so our new store will give folks the chance to see, feel and experience L.L.Bean in real-life.
Freeport, Maine (PRWEB) November 18, 2015
Internationally recognized outdoor retailer L.L.Bean, best known for its Bean Boot, everyday free shipping and 100% satisfaction guarantee is set to expand its retail operation with the opening of its third Ohio store, scheduled to open the fall of 2016. The new L.L.Bean store will be located at The Kenwood Collection, a dynamic mixed-use development also featuring The Container Store and Crate & Barrel, located adjacent to the Kenwood Mall in Kenwood, Ohio, just outside of Cincinnati. The 15,000 square-foot store will feature an assortment of active and casual apparel and footwear, as well as outdoor lifestyle gear including hiking, fly-fishing, kayaking and winter gear and camping products. The store will employ approximately 100 people. This will be L.L.Bean's third store in Ohio and its 27th retail store outside of Maine. Current L.L.Bean Ohio locations include stores at Legacy Village, just outside of Cleveland and at Easton Town Center, just outside of Columbus, both of which opened in November of 2015.
"A lot of people in the Cincinnati area may only know us through our catalog or web site, so our new store will give folks the chance to see, feel and experience L.L.Bean in real-life," said Ken Kacere, senior vice-president and general manager of retail at L.L.Bean. "We're excited to be infusing a bit of the Maine essence and the L.L.Bean brand into the Cincinnati area. And with all of the great outdoor activities that abound, from paddling and fishing on the Little Miami River and cycling through Devou Park, combined with people's awareness and appreciation of L.L.Bean and all that we stand for, we know this store is going to be a great home for us."
L.L.Bean made the decision to expand its retail presence into Ohio as part of its overall retail expansion plan and due to the high level of brand affinity the area residents have for L.L.Bean. In addition, the area is also in proximity to several abundant natural resources and multiple opportunities for many outdoor activities, as well as a population base that enjoys regularly engaging in a variety of outdoor pursuits. The store will allow the people of Warren and Hamilton counties and beyond to experience first-hand everything that the legendary outdoor retailer has to offer, such as quality merchandise, a welcoming shopping environment and a large roster of ongoing demonstrations and clinics on a number of outdoor topics.
Of particular note will be the inclusion of L.L.Bean's Outdoor Discovery Schools, which will offer demonstrations, clinics and introductory hands-on activities like snowshoeing, kayaking, stand-up paddleboarding, archery and fly casting, all designed to make it easy for people to engage in outdoor activities for health, fitness and recreation. L.L.Bean Outdoor Discovery Schools' courses are offered at every L.L.Bean Retail Store. In 2014, over 130,000 people participated in these programs.
"We are extremely excited to add the iconic brand of L.L.Bean as a destination retailer for the Kenwood Collection," said Mike Phillips, CEO and President of PECO Real Estate Partners.
The new L.L.Bean store in Ohio at The Kenwood Collection is scheduled to open in the fall of 2016.
About L.L.Bean, Inc.
L.L.Bean, Inc. is a leading multichannel merchant of quality outdoor gear and apparel. Founded in 1912 by Leon Leonwood Bean, the company began as a one-room operation selling a single product, the Maine Hunting Shoe. Still family owned, Shawn Gorman, great grandson of Leon Leonwood Bean, was named Chairman of the Board of Directors in 2013. While its business has grown over the years, L.L.Bean continues to uphold the values of its founder, including his dedication to quality, customer service and a love of the outdoors. L.L.Bean products are rigorously tested, guaranteed to last and always shipped free. In the past five years, L.L.Bean has donated over $6 million toward conservation and land stewardship. The 220,000 sq. ft. L.L.Bean retail store campus in Freeport, ME, is open 24 hours a day, 365 days a year and welcomes more than 3 million visitors every year. L.L.Bean can be found worldwide at http://www.llbean.com, Facebook, Twitter, YouTube, Pinterest, Google+ and Instagram.
# # #