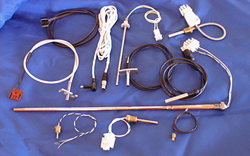 OVEN Industries, experts in precision temperature applications, now offers Water Proof Temperature Sensor product line.
Mechanicsburg, PA (PRWEB) November 19, 2015
Temperature Sensors fall into 2 major categories and those are contact and non-contact. The Temperature Sensor now available through OVEN Industries provides a water proof threaded stainless steel case that can be adapted to protect many of its standard or custom Temperature Sensors for liquid applications.
When asked why the company developed this particular type of Sensor, the VP of Sales and Marketing stated, "many applications in industry often require temperatures to be monitored and controlled in product or process applications that involve liquids. The stainless steel case offers protection to the embedded sensor wiring and a means for fastening the sensor by way of the threads. The VP paused for a moment and then said, we want the world to know that OVEN Industries is capable of just about any temperature related application as its 50 year history has shown with its in-house Research and Development". The company requests inquiries for this Water Proof Sensor be directed by calling the company or through its website contact page.
Listed here are some of the Temperature Sensor types offered by the company:

Temperature Sensors
Thermistor Sensors
Thermocouple Sensors
Probe Sensors
Thermo Electric Module Sensors
Water Proof Sensors
Process Application Sensors
OVEN Industries, Inc. (OI) was founded in 1964 and specializes in the development of custom electronic temperature controllers and sensors. OI supplies precision electronic devices that serve an array of clients not limited to these industries; aerospace, automotive, biomedical, defense markets, medical and semiconductor.
Contact OVEN Industries at 877-766-OVEN for detailed drawings and pricing or visit http://www.ovenind.com