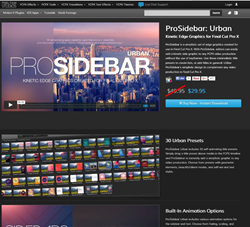 With Pro-Sidebar, editors can easily add a kinetic side graphic to any FCPX video production without the use of keyframes.
Aliso Viejo, CA (PRWEB) January 05, 2016
ProSidebar is a simplistic set of edge graphics created for use in Final Cut Pro X. With Pro-Sidebar, editors can easily add a kinetic side graphic to any FCPX video production without the use of key-frames. Editors can use these minimalist title presets to create lists, or add titles in general. Utilize ProSidebar's simplistic design to complement any video production in Final Cut Pro X.
ProSidebar Urban includes 30 self-animating title presets. Simply drag a title preset above media in the FCPX timeline and use ProSidebar to instantly add a simplistic graphic to any video production. Users can choose from presets with geometric elements, blend modes, and self-animation and text styles.
ProSidebar Urban includes various animation options for the sidebar and text. Choose from fading, scaling, and moving text animations using intuitive drop-down menus found in the inspector window. Choose to have Pro-Sidebar animate in and/or out with just the click of the mouse. Pixel Film Studios makes titles functional and easy-to-use for FCPX editors.
Pro-Sidebar makes creating lists easy with built-in customization nodes. Choose from a variety of shapes and shape outlines using a drop-down menu. Customize the color, width, scale, count and spread of nodes with intuitive controls. Create lists with up to 20 items with Pro-Sidebars title presets.
Add a drop shadow to create greater depth between the sidebar and the scene below. Colorize, blur, add distance, and rotate the drop shadow with simple controls in the Final Cut Pro X inspector window. Instantly add a kinetic edge graphic with drag and drop ease.
Established in 2006, Aliso Viejo, California-based Pixel Film Studios is an innovative developer of visual effects tools for the post-production and broadcast community. Their products are integrated with popular non-linear editing and compositing products from Apple FCPX. Apple, the Apple logo, Mac OS X, and Macintosh are registered trademarks of Apple Inc. in the U.S. and/or other countries. All other trademarks and trade names are the property of their respective owners.