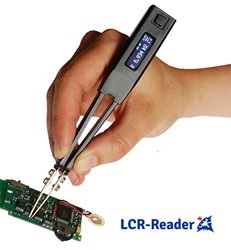 The main advantage of the LCR-Reader and Smart Tweezers are virtually instantaneous and highly accurate evaluations of SMT components
Waterloo, Ontario (PRWEB) November 18, 2015
Siborg Systems Inc. is offering deals on popular LCR-meters, LCR-Reader and Smart Tweezers for Black Friday, starting at midnight on November 27th, 2015. The sale price will be offered on Siborg's websites, as well as amazon.co.uk and amazon.ca.
Since the Smart Tweezers' debut in the early 2000's, the device has grown in global popularity for quickly testing and troubleshooting SMT with high accuracy. The LCR-Reader is the "budget" model, released in late 2013, offers users the same function and high accuracy with less features and a lower price.
Smart Tweezers and LCR-Reader are a handheld multimeters that make testing and troubleshooting Surface Mount Devices simple and time-efficient. The gold-plated tweezers gain a full grasp on all sizes of components. When a component is between the tips, the device will determine the type of component and best test ranges before measuring Inductance, Resistance or Capacitance as well as any secondary impedance values such as ESR. All measurement values, including the type of component, test frequency and secondary impedance values are instantly displayed on the bright OLED display.
Both devices are powered by Li-Ion battery and are rechargeable via micro-USB port. They are prefect for all types of work, from manufacturing to repair and maintenance. At only 1 oz. weight, the devices are ultimately portable for doing field work.
"The main advantages of LCR-Readers and Smart Tweezers are virtually instantaneous and highly accurate evaluations of SMT components. The ability to hold and operate the device with just one hand, compared to conventional testers that require both hands to work wire leads, means that the work at hand can be done in less time, and the other hand is left free for taking notes or other tasks. Sorting loose and unidentifiable components is as simple as just holding the component between the tweezers; Smart Tweezers and LCR-Reader take the guess work out of working with SMT." says Michael Obrecht, a director at Siborg Systems Inc.
The LCR-Reader is the newest model in the Smart Tweezers family. This model is priced around $200 USD and was designed for people that wanted a device like Smart Tweezers but without the high price. The LCR-Reader functions the same as Smart Tweezers with fully automatic measurements. To reach the price point, some features were omitted, including the variable tolerances, offset subtraction, and continuity and diode testing. On the other hand LCR-Reader is ultimately simplified; all controls are handled by a single push button in contrast to a joystick used in Smart Tweezers. Besides, LCR-Reader is more stable when measuring larger capacitances in a milli Farad range. Actual accuracy varies between 0.5% and 1% as has recently been confirmed by Toronto based Navair Technologies.
Features on LCR-Reader:
-Automatic LCR and ESR measurements
-Basic accuracy of 1%
-Automatic best range selection
-1 oz. weight
The Smart Tweezers multimeters offer users a higher basic accuracy of 0.2%, more features and variable test parameters. This model is more geared toward professionals that need more customization for more specific measurements. The Smart Tweezers devices are currently used by many major high-tech companies across the globe.
Smart Tweezers features:

Fully automatic L, C, R and ESR measurements
0.2% Basic accuracy
Automatic selection of best test range
Component sorting with 1, 5, 10 and 20% tolerance
Continuity and Diode testing
Semi-automatic offset subtraction\
Extensive menus with customization options
1 oz. weight
Li-Ion battery with micro-USB charging.
Siborg has an extensive online catalogue of Smart Tweezers' replacement parts available for most models, including batteries, tips, screens, etc. Recently they have begun offering a new bent tip model for the Smart Tweezers ST-5S and LCR-Reader. The bent-tip design is more ergonomic compared to straight tips and reduce fatigue after long periods of use.
Smart Tweezers and LCR-Reader LCR-meters will be on sale for Black Friday starting at midnight November 27th, 2015 and ends at 11:59PM. The devices will be available on Siborg's websites, or on Amazon.
For more information:
Siborg Systems Inc.
24 Combermere Crescent
Waterloo, Ontario
Canada
N2L 5B1
Phone: 1-519-888-9906
Fax: 1-519-725-9522