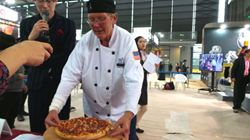 Shangai, China (PRWEB) November 18, 2015
Two members of the Groupon U.S. Pizza Team earned high marks at the 10th annual Chinese Pizza Championship, held Nov. 9-15 in Shanghai, China. The pizza-making competition was part of FHC China 2015, an international food and beverage trade show held each year in Shanghai.
Team member Jane Mines, co-owner of Nima's Pizza in Gassville, Arkansas, won second place with a pepperoni and mushroom pizza. The gourmet pie featured mushroom caps rimmed with hickory-smoked sea salt and a blooming rose made out of pepperoni slices.
Dave Sommers, owner of two Mad Mushroom stores in West Lafayette, Indiana, captured third place in the contest with his artisan pizza featuring a creamy Gorgonzola fondue sauce, roasted asparagus and pan-seared beef tenderloin.
Other members of the Groupon U.S. Pizza Team also competed in the event. Rick Mines, Jane's husband and partner at Nima's Pizza, unveiled a pizza topped with sliced chorizo sausage and roasted red peppers sautéed in Tuscan herb olive oil. The peppers were formed into a cherry pie-like latticework. Meanwhile, veteran team member Michael LaMarca, owner of the Master Pizza chain in Cleveland, offered up his "Orange Crush" pie made with arugula, oranges, blue cheese and candied pecans.
This was the first time the Groupon U.S. Pizza Team has been invited to compete at FHC China, an event that draws pizzaioli from all over China and around the world. The international pizza exhibition also attracted leading industry vendors and organizations such as the recently merged Kraft Heinz Company and the California Milk Advisory Board.
Along with staffers from event sponsor PMQ Pizza Magazine, the Groupon U.S. Pizza Team members toured Shanghai, took a riverboat cruise, dined at authentic Chinese restaurants and sampled Chinese delicacies such as crispy duck skin and boiled frogs with chili peppers. The American competitors watched their Chinese counterparts build pizza with duck eggs, bamboo shoots, truffle paté and Wasabi cheese. They also helped out as event attendees attempted to break the Chinese record for the biggest pizza ever made.
The Groupon U.S. Pizza Team consists of expert pizza makers and dough-spinning acrobatic performers from pizza res-taurants across the United States. The squad won the Team Acrobatics World Championship in Salsomaggiore, Italy, in 2011.
PMQ Pizza Magazine, the leading national trade publication for the pizza restaurant industry, created the Groupon U.S. Pizza Team in 2000. For more details about the USPT or the Chinese Pizza Championship, visit http://www.USPizzaTeam.com, http://www.pmq.com, or contact Anna Zemek at anna(at)pmq(dot)com or 662-234-5481, ext. 140.