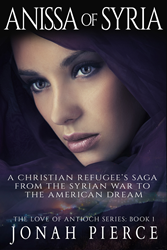 ...the book highlights the dangers faced by Christians and other religious minorities who dare to keep their faith despite the presence of...ISIS
New York, NY (PRWEB) November 24, 2015
As global attention focuses on Islamist terrorism and the plight of Syrian refugees, Jonah Pierce's book "Anissa of Syria" personalizes these pressing issues in a saga that brings the drama to life with the riveting story of a Syrian-Christian woman who flees the massacre of her family by Islamists.
Grounded in the grim facts of current events in the Middle East, the book highlights the dangers faced by Christians and other religious minorities who dare to keep their faith despite the threats posed by the ruthless Islamic State of Iraq and Syria (or "ISIS").
The gripping novel is based on extensive research on the Syrian Civil War, Christianity in the Middle East, the growth of ISIS, and Mideast history.
Described as a cross between "Exodus" (by Leon Uris), "The Kite Runner" (by Khaled Hosseini), and "The Diary of a Young Girl" (by Anne Frank), the story follows a young Christian woman's struggle to escape the horrors of Syria and rebuild her life as a refugee in New York City, where she receives a college scholarship to study at Columbia University. Driven to help her last surviving relatives and the beleaguered Christian community in Syria, Anissa Toma is soon drawn towards Michael Kassab, a political activist seeking to create the first Mideast Christian state out of territory liberated from ISIS. A complicated and intriguing love triangle develops after Michael learns that Anissa's college professor is Julien Morales, a Mexican-American finance tycoon with extensive political connections.
Gaining the financial and political support of the Latino billionaire is vital to Michael's efforts to establish Antioch, the first Mideast Christian state, and Anissa represents the best chance of recruiting the debonair bachelor to their urgent cause.
The novel, which is the first volume of an epic, two-volume series, falls into multiple genres: Historical Fiction, Sagas, Literary Fiction, Educational, Multicultural Romance, War Fiction, Hispanic & Latino, War Romance, Coming of Age, Contemporary Romance, and World Literature.
A story of survival, love, and the triumph of the human spirit, the book was originally released under the title "The Syrian Virgin." To appeal to a broader readership, the novel was recently re-released as a "clean read" version of the saga. "Anissa of Syria" has no profanity and just a few, brief scenes of minimally described intimacy without reference to any explicit details or sexual anatomy. However, due to some of the violence described in the context of the Syria Civil War, the book is not recommended for readers under 16.
"Anissa of Syria" is available in e-book and paperback formats. Visit the web site or view the book trailer for more details and buy links.