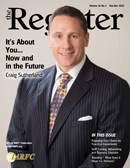 My passion is driven by the mere fact I am blessed with the opportunity to create a powerful life experience for myself and others...Craig Sutherland
Middletown, OH (PRWEB) November 19, 2015
Sutherland, a dedicated member of the IARFC and a Money Concepts franchise owner for over 21 years, professes a simple mantra to his clients – "It's all about you." Unlike most consultants in the financial services industry who focus solely on how much a person has to invest, he takes a different approach. "In my initial discovery meeting, finances and investment strategy are rarely discussed," explains Sutherland. "We utilize the initial meeting to find out if our personalities and philosophies align, are the clients willing to commit seriously to a planning process and are they willing to create their bigger future with our help."
To help clients visualize their financial journey, Sutherland advocates a team approach with a personalized roadmap. He allows the client to create their own journey while acting in the role of support advocate. Nothing in their financial process is a stand-alone. It is uniquely integrated based on a holistic vision. He believes that the first component of a disciplined approach and proper planning is to realize that one has to evolve with the times. "Real growth is the product of the things you learn and the changes that you make as you move forward toward a bigger future. This definition is the basis for the starting point with us."
Sutherland feels that the RFC® designation helps his professional standing. "Consumers of any product or service want to feel their choices are validated and justified," he relates. "Having the RFC® designation eliminates questions about the commitment of our education to being a real professional." The association with Money Concepts – one of the most highly regarded broker-dealers in the industry - has allowed him to brand the franchise to his name to create his legacy which will be identified for many years to come.
"The IARFC stands behind motivated independent individuals such as Craig Sutherland," states IARFC CEO, Ed Morrow. "We aim to equip him and all our members with the education and network opportunities to make them successful financial professionals."
Visit the online publication, the Register on the IARFC website to read the entire article on Craig Sutherland. His journey and success story is representative of many inspiring members from the Association.