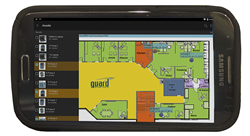 GuardRFID's new apps allow users to continue to have visibility of system events, and to enable them to manage their systems while on the go, and from wherever they may be
(PRWEB) November 19, 2015
Guard RFID Solutions Inc., announced today that it had released mobile application clients for its AllGuard Active RFID platform as apps for free downloads at the Apple iTunes and Google Play online stores. The AllGuard Mobile Client allows users of GuardRFID's various active RFID based solutions to securely connect to their system to monitor tag events and locations while on the move, using either Wi-Fi networks or cellular data connections.
The feature rich AllGuard Mobile provides the ability to view tag events and perform queries, such as to locate assets or personnel, in graphical as well as text formats. Notifications of pre-determined tag events, such as those that create alarms or warnings, are displayed even if AllGuard Mobile is running in the background. Such events can also be acknowledged and accepted by authorized users, after providing proper credentials. AllGuard Mobile also supports the ability to display the entire population of tagged items, so as to determine personnel demographics in the event of an incident requiring evacuation, for example.
"As handheld devices continue to get smarter and users embrace the mobility they offer, having the means to serve such mobility becomes a natural progression for any system", says Zahir Abji, CEO and President of GuardRFID. "GuardRFID's new apps allow users to continue to have visibility of system events, and to enable them to manage their systems while on the go, and from wherever they may be. We are proud to continue to innovate new cutting-edge features and technologies, primarily brought about by listening to our customers."
Due to their ease of use, reliability and robustness, GuardRFID's suite of applications have been selected as the systems of choice by many high profile healthcare and industrial facilities. Its tag platform has been designed to be highly resistant to RF noise interference, enhancing the security of patients within the healthcare environment, as an example.
About Guard RFID Solutions, Inc.
Guard RFID Solutions, Inc. develops Active Radio Frequency Identification (RFID) technologies and products for Healthcare, Industrial, and Enterprise applications. Guard RFID Solutions, Inc.'s products can accurately track and locate equipment, materials, and people for enhanced automation, workflow, monitoring, and security solutions—all on one flexible platform. Guard RFID Solutions, Inc. is federally incorporated in Canada, with its head office in British Columbia.
GuardRFID Contact:
Zahir Abji, President and CEO
info(at)guardRFID(dot)com
http://www.guardRFID.com