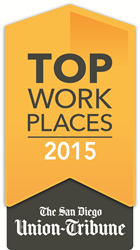 Passion, courage and ability! We believe that without taking risks and a drive to succeed, there is no growth. This is a great place to work, where great work gets done. – BusinessOnline
San Diego, CA (PRWEB) November 19, 2015
Last week, performance-driven digital marketing agency, BusinessOnline (BOL), was awarded a 2015 Top Workplaces honor by The San Diego Union-Tribune. The Top Workplaces lists are based solely on the results of an employee feedback survey administered by WorkplaceDynamics, LLC, a leading research firm that specializes in organizational health and workplace improvement. Several aspects of workplace culture were measured, including Alignment, Execution, and Connection, just to name a few.
BusinessOnline applauds employees' ideas and challenges them to evolve and grow. As an organization that values commitment and recognizes employees' efforts, a job at BusinessOnline is not just a job; it is a place where professionals can build a future. At its core the organization believes hard work should be rewarded and it permeates the culture. The relationships and friendships are not confined to the office walls, as is clear with company-wide Rock Band tournaments, city-wide scavenger hunts, or beautiful sunset cruises along the San Diego coast. Further, BusinessOnline understands that its people are the key to their success and want to ensure continuous learning and growth. They invest heavily in professional development — from paid college tuition, internal mentoring and educational programs, certification programs, professional organizations and association memberships. For BusinessOnline it's about creating a culture and work environment that keeps its employees engaged.
"The Top Workplaces award is not a popularity contest. And oftentimes, people assume it's all about fancy perks and benefits." says Doug Claffey, CEO of WorkplaceDynamics. "But to be a Top Workplace, organizations must meet our strict standards for organizational health. And who better to ask about work life than the people who live the culture every day—the employees. Time and time again, our research has proven that what's most important to them is a strong belief in where the organization is headed, how it's going to get there, and the feeling that everyone is in it together." Claffey adds, "Without this sense of connection, an organization doesn't have a shot at being named a Top Workplace."
###
About BOL
BusinessOnline is a performance-driven digital marketing agency headquartered in San Diego, CA. Founded in 1996, BusinessOnline was born from technology and is privately held. As a technology-enabled marketing agency, BusinessOnline leverages data to gain deep insights about its client's customers' specific needs in each phase of their buying journey and then aligns digital marketing activities to meet those needs. This data-driven, customer-centered approach builds strong relationships and thereby improves marketing performance. BusinessOnline has also won Agency of the Year honors from AdAge and BtoB.
About WorkplaceDynamics, LLC
Headquartered in Exton, PA, WorkplaceDynamics specializes in employee feedback surveys and workplace improvement. This year alone, more than two million employees in over 6,000 organizations will participate in the Top Workplaces™ campaign— a program it conducts in partnership with more than 40 prestigious media partners across the United States. Workplace Dynamics also provides consulting services to improve employee engagement and organizational health. WorkplaceDynamics is a founding BCorporation member, a coalition of organizations that are leading a global movement to redefine success in business by offering a positive vision of a better way to do business.