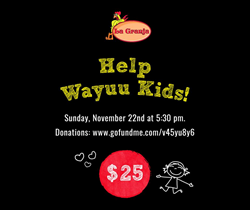 Palm Beach Gardens, FL (PRWEB) November 19, 2015
La Granja Restaurant is teaming with Today's Children Outreach to raise funds to help the Wayuu native children of La Guajira, Colombia.
La Guajira is inhabited by the indigenous natives of the Wayuu ethnicity. Ignored by the government, the town and its residents are utterly impoverished. Every year, thousands of children in this Colombian town are dying due to the lack of drinkable water, malnutrition, lack of proper medical care and poor hygiene resulting from the bacteria found in the water.
La Granja's North Lake Location in Palm Beach Gardens is hosting the event on Sunday, November 22, 2015, starting at 5:30 p.m. There has been a GoFundMe site set up for the fundraiser, as well at https://www.gofundme.com/v45yu8y6. La Granja, in conjunction with Today's Children Outreach, intends to raise funding to provide the people of La Guajira, especially the children, with the opportunity to grow with improved nutrition, better education and proper medical care.
Claudia Bartra is the owner of the LaGranja restaurant chain, which operates many franchises in South Florida, has joined other volunteers and supporters in helping this Colombian community of poverty-stricken citizens. As Claudia states, "La Granja Restaurants is proud and honored to support this very worthy cause. We hope you will stop by and contribute to this critical mission."
Located at 3301 North Lake Blvd. Palm Beach Garden, FL 33410, the North Lake location serves the same fresh Peruvian cuisine, including Pollo a la Brasa, as was first introduced in their first location in Aruba. You can get more information on the fundraising event by visiting the Children's Outlook Facebook page at https://www.facebook.com/todaysChildrenOutreach.
ENDS
For further information on La Granja Restaurants, please contact:
La Granja Corporate Office
3907 NW 49th Street Tamarac, Fl 33309
Phone: (954) 968-7988
info(at)lagranjarestaurants.com
http://lagranjarestaurants.com/