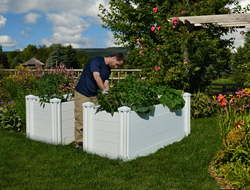 Philadelphia, Pa (PRWEB) November 24, 2015
There's nothing better than giving the gift of green this holiday season with plants, shrubs and containers that gardeners of all levels can enjoy.
This year, gardens are popping up in the most unexpected places. A variety of unique plants and accessories can fulfill anyone's outdoor living needs.
Vita Gardens' African Keyhole Garden Bed ($499)
Water conscious gardeners – and that should be all of us – can plant with ease in Vita Gardens' new African Keyhole Garden Bed. The raised bed uses 80 percent less water compared to a traditional garden bed and produces a greater yield in less time. Keyhole gardening is a best-practice in Africa, where severe drought and extreme heat make growing food difficult. The method works by creating one space for both growing and composting. Visit vitagardens.com to learn more.
Longfield Gardens' Paperwhite Bulb Kits ($9.90 - $64.90)
What better reminder that spring is right around the corner than the distinct aroma that paperwhites bring indoors? These easy-to-grow bulbs produce stunning pure white flowers and bloom within four weeks of planting. Personalize this gift kit with a unique container and bulbs for that special recipient. Visit http://www.longfield-gardens.com to learn more.
Longfield Gardens' Amaryllis Bulb Kits ($16.95-$64.95)
Longfield Gardens' stunning amaryllis bulbs offer a pop of color during the cold winter months. Amaryllis are hearty and simple to grow. Bulbs will bloom four to eight weeks after planting and flowers will open wide to show off their striking coloration. Visit http://www.longfield-gardens.com to learn more.
BrazelBerries® Edible Fruit Collection ($19.95 - $31.95)
Give the gift of health and wellness this season with blueberries and raspberries from the BrazelBerries Collection of ornamental edible shrubs. These compact plants are simple to grow, produce delicious fruit and provide beautiful foliage. For more details, visit BrazelBerries.com.
Garden Voyage Holiday Soap Collection ($9.95)
This set of Noel Holiday soaps make perfect stocking stuffers in addition to thoughtful hostess and teacher gifts! Made in the USA, this set includes festive peppermint, bayberry and evergreen soaps that are enriched with Shea-butter and essential oils. The hand-drawn botanical images are reminiscent of Charles Dickens. For more details, visit gardenvoyage.com.
Costa Farms' Joy Globes
Joy Globes are a unique combination of ornament and houseplant! The clear glass globe holds a beautiful air plant, an easy-to-grow little plant that doesn't require soil -- just humid air. Display Joy Globes on a bright desk, counter, or tabletop -- or hang them in front of a window, from a holiday plant (such as a Norfolk Island pine), or anywhere else you'll enjoy their unique beauty. Availabe at your local garden retailer. Visit costafarms.com for more information.
Garden Media Group is a boutique PR and marketing firm specializing in the home, garden, horticulture, outdoor living, and lawn and landscape industries. For more information visit gardenmediagroup.com.