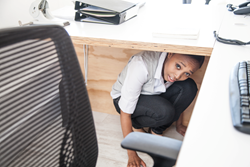 Public shootings are senseless acts of violence that need to stop. Avitus Group is encouraging employers to form a united front against workplace violence, and we feel that starts with education.
Denver, Colorado (PRWEB) November 24, 2015
"Public shootings are senseless acts of violence that need to stop. As one of the top 20 employers in the co-employment industry in the United States, we work with countless businesses that represent thousands of employees. We are encouraging employers to form a united front against workplace violence, and we feel that starts with education," says Avitus Group Public Relations Manager, Dianne Parker.
The United States Department of Labor's Occupational Safety & Health Administration or OSHA's description of workplace violence ranges from threats of physical violence, verbal abuse, harassment, intimidation and threatening disruptive behavior to homicide. According to the Bureau of Labor Statistics Census of Fatal Occupational Injuries, homicide is the 4th leading cause of fatal occupational injuries in the U.S. In fact, 403 workplace homicides were reported in 2014.
"Workplace violence is a significant concern for employers and employees worldwide. It is also a concern for clients and others visiting a business. Unfortunately, we've all witnessed the aftermath of public shootings at theaters, restaurants and other public establishments, and even live on television. Avitus Group's best practices guide arms employers with education and a clear path for prevention of and protection against workplace violence," says Avitus Group's Montana-based Director of Human Resources & Risk Management, Ryan Braley.
Avitus Group's Workplace Violence Prevention and Protection Plan Best Practices Guide outlines the top 12 workplace violence prevention & protection best practices. The checklist is an easy way for employers to make sure they are following best practices and includes items like: "My company has a zero tolerance for workplace violence policy. It is located in an employee handbook or within an injury and illness prevention program." "My company's supervisors have been trained in avoiding negligent hiring and retention." and "My company has blueprints of the facility available." The guide also provides U.S. statistics on workplace fatalities by state. Workplace fatalities stemming from violence are the highest in California, followed by Texas and New York. Nationwide in 2014, 749 workplace fatalities were due to violence. Each year, nearly two million American workers report being victims of workplace violence, and according to OSHA, many more cases go unreported.
"The workplace violence numbers are too high, and it is alarming to many business owners and managers. Our guide goes beyond the checklist, and provides those owners and managers with further resources for industries most at-risk," says Dawn Wilson, PHR, a Human Resource and Risk Management Consultant in Avitus Group's Denver office.
According to OSHA, those most at-risk for workplace violence include workers who exchange money with the public, delivery drivers, healthcare professionals, public service workers, customer service agents, law enforcement personnel and those who work alone or in small groups. People with supervisory responsibility and those who make employment decisions are also more at risk. Workers have a right to a safe workplace. The law requires employers to provide employees with a safe and healthful workplace.
"If an employer does not ask pre-employment screening questions, that employer can be held liable if an unstable employee hurts co-workers, clients or visitors to that business. Certain states have even more stringent requirements on the employer. In California, AB1825, which pertains to sexual harassment, requires businesses with 50 or more employees to provide two hours of sexual harassment training every two years for anyone who supervises. That training must include a workplace violence component related to abusive conduct," says Avitus Group Group's California-based Director of Human Resources & Risk Management Cynthia Hancock. "Avitus Group makes sure our members are in compliance with federal and state laws, which helps save lives."
"A word of caution to employers. Under the OSHA General Duty Clause it states that each employer shall furnish to each of his employees employment and a place of employment which are free from recognized hazards that are causing or are likely to cause death or serious physical harm to his employees," says Avitus Group Human Resource and Risk Management Consultant Steve McDonald. "Employees involved in active shooter incidents have successfully sued their employer for not providing training on what to do during an active shooter event. This is a federal mandate which obligates employers to train their employees on how to deal with these events."
Avitus Group is a worldwide company. Avitus Group simplifies, strengthens and grows businesses by providing 'back office' support (Payroll, accounting, taxes, recruiting, information technology, etc.). When a business uses Avitus Group, all of the necessary yet burdensome functions of the business become Avitus Group's responsibility, so the business can focus on what it does best. Avitus Group serves clients nationwide through regional office locations from coast to coast. The company also serves international clients through partner locations in Europe, Canada, China, England, India, Japan and Singapore.