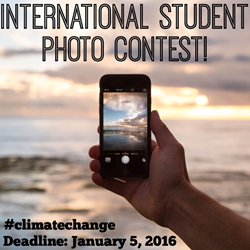 Students everywhere, do you care about climate change? Enter this photo contest!
(PRWEB) November 19, 2015
Carnegie Council for Ethics in International Affairs announces its third annual International Student Photography Contest.
The contest will be conducted on Carnegie Council's Global Ethics Network, a social media platform for exploring the role of ethics in international relations.
ELIGIBILITY: All students of every nationality are eligible. Non-students will be disqualified. The minimum age is 13.
TOPIC: Climate Change: Send us your photos that show examples of climate change OR examples of combating or adapting to climate change.
DEADLINE: January 5, 2016
PRIZES:
1st prize: $200 Amazon Gift Certificate
2nd prize (two): $100 Amazon Gift Certificate
Winning photos may be posted on other Carnegie Council websites.
HOW TO ENTER:
1. Join the free Global Ethics Network (GEN) website: http://www.globalethicsnetwork.org.
2. Upload your photo in the photo section of the website.
3. Please explain each image in 250 words or less.
4. Include your full name, school affiliation, and nationality in the following format:
[Full Name]
[School Affiliation]
Nationality: [Country Name]
5. Tag the blog post with #photo2015 and publish it. Please allow 24 hours for approval.
6. Entries are limited to 3 photos per person.
NOTE: In order to ensure high quality reproduction, we will require larger versions of the winning photos. All participants must be able to submit a high-resolution version of their photographs upon request (at least 300 dpi at 3,000 pixels on the longest side).
EDITING: All photos must be your original work. Collage, cropping, and use of software such as Photoshop is permitted.
Founded by Andrew Carnegie in 1914 and based in New York City, Carnegie Council for Ethics in International Affairs is an educational, nonprofit, nonpartisan organization that produces lectures, publications, and multimedia materials on the ethical challenges of living in a globalized world. Go to http://www.carnegiecouncil.org