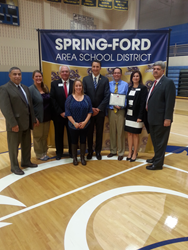 It's a great honor and we do put a lot of emphasis on making sure our students are safe; either before an incident or after. This recognition validates those attempts."
Harrisburg, PA (PRWEB) November 19, 2015
The Pennsylvania Athletic Trainers' Society (PATS) announces 27 schools have received the National Athletic Trainers' Association(NATA) Safe Sports Schools. Why have these schools and their respective members of each Athletic Health Care Team decided to pursue this award? The answers vary from school to school but the consistent theme has been to promote a positive image of both the school and the Athletic Trainers (ATs). According to Mr. Alex "Sandy" Zettlemoyer, LAT with Mechanicsburg High School, "We were one of the first schools in the state that applied for this award. We wanted to increase the positive exposure of Athletic Trainers and our Athletic Training program in general. Another aspect was to demonstrate how Athletic Trainers have an impact in all facets of the extra-curricular athletic program."
Spring-Ford High School was a recent proud recipient of the NATA Safe Sports School Award (1st Team Designation). The award recognizes schools that meet ten criteria designed to keep students safe and injury free. Spring-Ford Superintendent David Goodin said "It's a great honor and we do put a lot of emphasis on making sure our students are safe; either before an incident or after. This recognition validates those attempts."
Spring-Ford Athletic Director Mickey McDaniel and Athletic Trainers Dan Holman, Kate Daniels and Riane Casper were presented the award by NATA District 2 Director AJ Duffy. Also in attendance were Eastern Athletic Trainers Association (EATA) Secretary Michelle Monaco, and PATS President John Moyer and Executive Director Linda Mazzoli. The day culminated with remarks from Congressman Ryan Costello, co-sponsor of the Secondary School Student Athletes Bill of Rights. Costello stated, "Competing is why we all play sports. At the same time we want to make sure we're not competing and putting student athletes at risk, when they shouldn't be on the playing field. Today was highlighting Spring-Ford for the great job that they do."
"It's an awesome honor," said Spring-Ford Principal Pat Nugent. "I just know the amount of work and time and effort our athletic trainers put into the whole entire athletic program.They basically live here. From 2 o'clock on, there's somebody here constantly. I'm really proud of them; they work hard."
Safe Sports School award winners receive a banner to display in a prominent location to show the public their commitment to athletic safety. Many also use the logos on letterhead and in electronic communications. Demonstrating this to the public is great, but not all benefits are clearly visible. A great deal of the world of Athletic Trainers happens "behind the scenes" and this is where the true benefit of this award lies. Mr. Rick Guinan of Central York High School shared the following, "The application process for this award was very beneficial to our overall program. It forces you to look at all of our existing protocols from A-Z, make updates or changes, and gauge the effectiveness of what we do and how we do it."
Nationwide, 607 schools have received this prestigious award to date and the 27 in Pennsylvania represents just over 4% of this total. Why such a low number for a state with a strong heritage of Athletic Training? Mr. Guinan states, "Many people believe that it's simply too much work to apply. I disagree with that thinking because we all have this information in our files, but it may not be organized into one complete file. Applying for this award allowed us to compile the documentation we already had into one complete file, demonstrating that A-Z concept mentioned earlier."
PATS supports this initiative as well and has offered to pay the $150.00 application fee for the first 30 schools within the Commonwealth that apply. At this time 10 grants remain unclaimed. For more information on this opportunity PATS members can contact their regional representative. Contact information can be found by visiting http://www.gopats.org.
The following Pennsylvania schools have received the NATA Safe Sports Schools Award:
Avonworth High School: Pittsburg, PA
Big Spring High School: Newville, PA
Cedar Crest High School/Middle School: Lebanon, PA
Central York High School: York, PA
Cocalico High School: Denver, PA
Danville Area High School: Danville, PA
Emmaus High School: Emmaus, PA
Gateway Senior High School: Monroeville, PA
Harriton High School: Rosemont, PA
Hickory High School: Hermitage, PA*
Keystone Oaks School District: Pittsburgh, PA
Lower Merion High School: Ardmore, PA
Manheim Central High School: Manheim, PA
Mechanicsburg Senior High School: Mechanicsburg, PA
Muhlenberg High School: Reading, PA
Pen Argyl Area High School: Pen Argyl, PA
Penn Trafford High School: Harrison City, PA
Plum Borough High School: Pittsburgh, PA
Saint Joseph's Catholic Academy: Boalsburg, PA
Sullivan County High School: Laporte, PA
The J.P. McCaskey High School Campus: Lancaster, PA
Twin Valley School District: Elverson, PA
Warwick High School: Litiz, PA
West Shamokin Jr.-Sr. High School: Rural Valley, PA
William Penn Charter School: Philadelphia, PA
Wilmington Area High School: New Wilmington, PA
Wilson School District: West Lawn, PA
For more information regarding this topic or to schedule an interview with PATS President John Moyer LAT, ATC, please contact Linda Mazzoli MS, LAT, ATC, PATS Executive Director.
The Pennsylvania Athletic Trainers' Society, Inc. is a progressive organization of licensed health care professionals who work under the direction of a licensed physician. Our society continues to increase public awareness and education regarding Athletic Trainers and the Athletic Training profession while serving as the premier source of information for public safety, injury and illness prevention, early intervention, patient care, and healthcare delivery for the physically active in the Commonwealth.
"The Keystone to a Healthy and Physically Active Life"