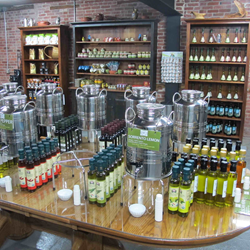 We are committed to offer outstanding Italian quality products
Lancaster, PA (PRWEB) November 19, 2015
Great news for food-lovers and gourmands: Gesino's Italian Specialty Food opened its doors last week-end! Residents and food enthusiasts have now an opportunity to enjoy some of the finest Italian products ever imported into the United States, and just in time for the holiday season.
Gesino Sgro, founder and owner of Gesino's, embraced his journey toward the American Dream about 50 years ago, moving from a picturesque village in Calabria, Italy, with a load of hopes and not a word of English. After years of hard work in steel foundries and later as an iron worker, Gesino embraced a successful carrier in the mechanical industry. In 2004 he launched Bacco Wine & Spirits, a successful wine importing company followed now by the flagship store Gesino's Italian Specialty Food. "As one who appreciates that fine Italian cuisine requires fine ingredients, I look forward to another source for those ingredients in Lancaster," said Mayor Gray during the ribbon cutting ceremony.
The newly-restored interior kept a feeling close to its original industrial charm, but with an Italian panache (including a beautiful Vespa scooter). The handpicked lines of products include: organic and specialty pasta, including brand new carob pasta; assorted pesto, tapenades and sauces; olive oils and balsamic selections; olives; organic jams & marmalades; spelt; cookies; chocolate; confetti/sugar almonds; traditional Italian seasonal cakes like Panettone; coffee; water and soft drinks. Selected products can be also purchased online at gesinosfood.com or on pastaandvino.com.
The store is located at 945 North Plum Street in Lancaster City at the corner of Liberty and offers ample free parking to indulge in tastings and shopping. A beautiful and rustic second floor space above the store will be soon available to host special events (showers, book signing and tastings) in an extraordinary and unique setting. "We are committed to offer outstanding Italian quality products, rare findings. Flavors and savors of regional specialties, offering something different all the times" says Gesino Sgro adding: "We look forward to welcoming you at Gesino's, the newest food-lovers destination in Lancaster, PA!"
For additional information: http://www.gesinosfood.com