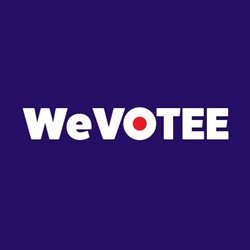 "WeWIN's Rewards platform could be that extra push for unregistered voters to complete their voter registration and do some good in the process," stated Jason Libersky, WeVOTEE Founder.
New York, NY; Los Angeles, CA; Washington, D.C.; Albuquerque, NM (PRWEB) November 19, 2015
WeVOTEE will be incorporating both Rewards and Boost programs through WeWIN's API into the WeVOTEE mobile app. Individuals who register to vote through the mobile app will be offered a "thank you" or reward for fulfilling their civic duty. The Rewards program was integrated into the Red Cross Blood Donor app at launch over a year ago with impressive results and many industry accolades. The platform will allow the newly registered voter to choose a reward from a national or local retailer or the voter can opt to donate their reward to their favorite charity through the app. Boost sponsorships are available in-app for organizations interested in supporting the voter registration cause.
"We knew 2016 would be a critical year for voter registration. A test run in New Mexico for the 2012 election told us we were on the right track and that mobile voter registration was the way to go," stated Jason Libersky, WeVOTEE Founder. "WeWIN's Rewards platform could be that extra push for unregistered voters to complete their voter registration and do some good in the process."
WeVOTEE's effectiveness and security as a voter registration tool was realized by the electoral commission in Albuquerque, NM in 2012, where voter applications had a 100% acceptance rate and voter information cards were received within 7 days vs. 4-6 weeks when traditional paper forms were used. All About the Vote (AATV), a 501(c)(3) non-profit organization, will utilize this tool to register voters in the run-up to the 2016 Presidential election. "The ability to register to vote with smartphones is a logical step considering the large number of people who use the technology but are not necessarily connected to their local boards of election," said Yvette Lewis, Executive Director of AATV.
Studies have shown that citizens who vote are more active in their communities, stay informed about local affairs and are more likely to volunteer, creating a positive effect on their communities.
"WeWIN is proud to be a part of the WeVOTEE solution and it's a natural progression of our offering. No matter what your political affiliation, registering to vote is good for us all," said Syd Dufton, WeWIN CEO. "As a firm believer of digital nudging, it needs to be easy, attractive, social and timely. WeVOTEE does just that for voter registration and why not get a thank you for doing good? With our geolocation based Rewards and Boost program, we can incorporate unique offers across the country for every voter region and truly act and think glocally, global and local at the same time."
About WeWIN
WeWIN, based in New York City, http://www.fundable.com/wewin, specializes in fully customizable solutions for integration into ecommerce systems engaging customers any place, any time. WeWIN was born following Hurricane Sandy as the team witnessed firsthand how retailers, causes and consumers looked to social media to help organize donations and relief efforts. The WeWIN platform bridges the gap between ideas, causes, products and customers with a single interface. It is the first API-based (Application Programming Interface) rewards program tied to retail. WeWIN is offering schools, charities and nonprofit organizations a way to thank their donors and retailers a way to engage fans with the causes they care about. For more information about WeWIN and its commitment to powering the next generation of giving, visit http://www.WeWIN.com. Or connect with WeWIN on Facebook, Google+, LinkedIn, Pinterest and Twitter.
About WeVOTEE
WeVOTEE provides next-generation tools that help give people a voice in politics. Our solutions are engineered to securely and efficiently address the needs of the public and the government through communication, transparency, and technology.
WeVOTEE's voter registration app significantly increases application approval rates by eliminating transcription errors, immediately and securely sending the applicants information to the proper agency, and reducing the time to receive a voter information card by over 80%.
About All About the Vote
All About the Vote (AATV) is a 501(c)(3) organization that believes every eligible voter, regardless of party affiliation, geography, race, age or any other distinguishing factor, should have an equal, undeniable right to vote.
We believe every eligible voter has a critical voice in our democracy, and we seek to ensure that no voice goes unheard because of restrictive and complicated election laws. AATV will serve as a resource to voters at risk of disenfranchisement by providing them with information about upcoming election dates and deadlines, available methods of voting, and requirements they must satisfy to legally vote.
Our mission is to help voters navigate hurdles they may encounter as a result of changes to voting laws, including but not limited to voter identification requirements. Our goal is to educate frequent and infrequent voters to help strengthen the democratic process and ultimately increase voter turnout.