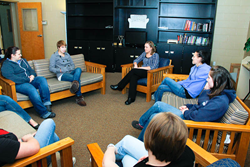 "Like the rest of our students, transgender students are encouraged to process and share their emotions," says Jennifer Wilde LCSW, Clinical Director at Elevations RTC.
Salt Lake City, UT (PRWEB) November 19, 2015
Elevations RTC, a co-educational residential treatment center for teens ages 13-18, supports Transgender Awareness Week. As a program that works with all gender identities, Elevations RTC seeks to support and advocate for transgender individuals.
Elevations RTC believes the most beneficial ways to support transgender teens include:

Helping transgender teens feel accepted: In 2012, according to the Trans Pulse Project, transgender teens that feel supported are ten times less likely to attempt suicide, five times more likely to have high self esteem and twice more likely to feel satisfied with their lives.
Learning more about what it means to be transgender: Reading personal accounts and autobiographies help provide an inside perspective of the struggles associated with being transgender and have proven to be a very powerful resource.
Always asking for proper pronouns/chosen name: Use the names and pronouns appropriate for a person's chosen gender identity. Apologize immediately upon accidentally misgendering someone.
Understanding the challenges a transgender teen might face: Transgender teens are more likely to be bullied and harassed. According to the National Center for Transgender Equality, 78 percent of transgender or gender non-conforming K-12 students reported harassment, 35 percent reported physical assault, and 12 percent reported sexual violence.
At Elevations RTC, transgender students live and go through the program with students who share the same gender identity regardless of biological factors.
"Because support plays a major role in promoting healthy behaviors for transgender students, Elevations helps to provide a temporary support system," commented Ryan Faust CSW, Primary Therapist at Elevations RTC. "This support system provides students with a safe environment to address any possible distress associated with one's gender identity."
In the past two years, approximately eight percent of students at Elevations RTC were transgender or gender non-conforming.
"At our residential treatment center, we promote a supportive community atmosphere. Students work in teams to emphasize our Positive Peer Culture model. These teams provide our students with the ability to assist and process their struggles with their peers, regardless of gender identity," says Jennifer Wilde LCSW, Clinical Director at Elevations RTC. "Like the rest of our students, transgender students are encouraged to process and share their emotions. This provides other students with an up close look at the various struggles associated with identifying as transgender."
All members of staff at Elevations RTC receive diversity and gender identity training in order to assist students throughout their time at the program.
Elevations RTC believes that providing the public with information and education about the transgender community will help reduce stigma and lead to a better quality of life for transgender individuals.
For more information about transgender awareness week, please visit:
GLAAD- http://www.glaad.org/transweek
___________________________________________________________
Elevations RTC is a unique residential treatment center that works with both young men and women ages 13 - 18. Elevations offers guidance, support and relief to young men and women struggling with issues like trauma, depression, mood disorders, behavioral problems, and substance abuse. Elevations RTC is located in Utah and provides specialized, clinically intensive programs to struggling teens. For more information, please call 1-855-290-9681.