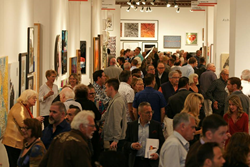 PSFAF is one of the most prestigious and thoughtfully curated shows in the West Coast fine art scene, particularly a favorite among contemporary museums, collectors and artists," says Donna Davies, Fair Director for Urban Expositions
Palm Springs, California (PRWEB) November 19, 2015
More than doubling in attendance since launching in 2012, the Palm Springs Fine Art Fair (PalmSpringsFineArtFair.com) has become the buzz of the winter art season. Under new leadership from Atlanta-based Urban Expositions (urban-expo.com), the fair will continue to be a must see event. "PSFAF is one of the most prestigious and thoughtfully curated shows in the West Coast fine art scene, particularly a favorite among contemporary museums, collectors and artists," says Donna Davies, Fair Director for Urban Expositions, "We are excited to have this dynamic art fair as part of Urban Expositions' portfolio of fairs."
With more than 60 international galleries exhibiting over 300 artists, with dozens of artists in attendance to meet collectors and discuss their work, the Palm Springs Fine Art Fair is a must-see show.
Each year art collectors attend the fair to acquire works by renowned artists such as Tony DeLap, Andy Burgess, Chul Hyun Ahn, Fletcher Benton, Justin Bower and Max-Steven Grossman to name a few.
The Opening Night Preview, benefitting the Palm Springs Art Museum on Thursday, February 11, 2016, celebrates PSFAF Arts Patrons of the Year Award recipients, Barbara and Jerry Keller. Barbara Keller is a trustee of the Palm Springs Art Museum, past president of the Museum Associates Council and the Chair for its key fundraising events. Jerry Keller, a successful business entrepreneur, is very active with Palm Springs Art Museum, CV Repertory Theater and the Israel Cancer Research Fund. Past recipients of the Arts Patron of the Year Award have included Arlene Schnitzer, Harold Matzner and Helene Galen.
Saturday, February 13, 2016, the PSFAF Lifetime Achievement Award will be presented to Larry Bell. At age 76, Bell is a pioneering American artist and sculptor, associated with the now famous LA 1960's "Cool School" of art. He lives and works in Taos, New Mexico, and owns a studio in Venice, California. He is a grant recipient from, among others, the National Endowment for the Arts and the Guggenheim Foundation, and his works are found in the collections of many major cultural institutions across the United States. Bell's work has been shown at museums and in public spaces nationally and internationally over the course of his 40-year career. Bell's likeness is in good company with other relevant figures in popular culture on the cover of the Beatles' Sgt. Pepper's Lonely Hearts Club Band album. Past recipients of the Lifetime Achievement Award include Fletcher Benton, Jennifer Bartlett and Judy Chicago.
Chul Hyun Ahn PortalReturning galleries include: Yares Art Projects (Santa Fe, NM), C. Grimaldis Gallery (Baltimore, MD), Gerald Peters Gallery (Santa Fe, NM & New York, NY ), Heather James Fine Art (Palm Desert, CA & Jackson Hole, WY), Cynthia Corbett Gallery (London,UK), Throckmorton Fine Art (New York, NY), Peter Marcelle Project (Southampton, NY), HOHMANN (Palm Desert, CA), Jorge Mendez Gallery (Palm Springs, CA), and Addison Rowe Gallery (Santa Fe, NM) to name a few.
"This weekend is the best, and perhaps only, art, design and architecture gathering of its kind in the world," says Rick Friedman former owner and founder of the fair, "Everyday during the show I had people tell me this is the best art fair in California, and there isn't another weekend that includes Modernism Week with the great art scene in Palm Springs."
Art critic and museum curator Peter Frank adds, "The PSFAF has variety and surprise; two qualities I look for in a fair." With respected art galleries from 7 countries and 33 cities, PSFAF had a record year in 2015 as thousands of enthusiastic art lovers and savvy collectors flooded the Palm Springs Convention Center in search of the perfect pieces to add to their collections.
The 5th Annual Palm Springs Fine Art Fair will be held February 11-14, 2016 at the Palm Springs Convention Center in Palm Springs, California. For complete event information visit PalmSpringsFineArtFair.com.
ABOUT URBAN EXPOSITIONS
Based in Kennesaw, GA, and founded in 1995, Urban Expositions produces and manages a portfolio of 40 events. Urban serves seven industry sectors including Gift, Souvenir, Art, Aviation, Foodservice, Pet and Gaming. Urban also produces Airport Revenue News, a publication focused on the airport concession industry. Urban has offices in Shelton, CT and Boca Raton, FL, and is represented by employees in California, Colorado and Illinois.
ABOUT CLARION EVENTS
Clarion Events operates over 200 events in 35 countries from offices in the UK, South Africa, USA, Brazil, Germany, Singapore, UAE, Turkey, and the Netherlands. Clarion can trace its roots back to 1947 and takes great pride in being one of the oldest independent event organizers in the UK. The teams at Clarion create uniquely effective and stimulating environments that can serve as a platform to build businesses, enhance customer relationships and accelerate product awareness.
http://www.clarionevents.com