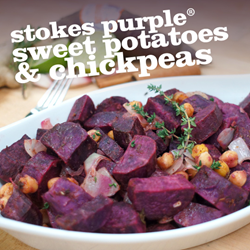 Los Alamitos, California (PRWEB) November 19, 2015
One of the hottest trends in home cooking is putting a modern twist on traditional recipes by using new ingredients. Frieda's Specialty Produce recommends these nine vegetables for those retro-chic recipes.
1. Pearl & Boiler Onions
Traditional creamed white pearl or boiler onions get a modern treatment with a variety of red or gold pearl/boiler onions, or even a healthier twist with a simple glaze.

2. Cipolline Onions
Nothing says comfort like roasted vegetables. Substitute chunks of onion with sweet, whole Cipolline Onions for that savory-sweet flavor profile.

3. Shallots
Remember that classic green bean casserole? Instead of reaching for the canned fried onions, go fresh all the way with crispy fried Shallots.
4. Stokes Purple® Sweet Potatoes
Sweet potatoes are a must-have for the holidays. Wow your dinner guests with a colorful new sweet potato dish like…

5. Colored Baby Carrots
Beautiful heirloom root vegetables add more than just orange to your holiday table. Pair these with parsnips for a brilliant side of roasted vegetables.
6. Parsnips
This root veg is made for roasting, which brings out a sweet flavor profile that complements any holiday side dish.

7. Baby Potatoes
Nobody's knocking mashed potatoes, but whole-roasted baby spuds are where it's at for holiday cooks…and nobody minds a little bacon, right?

8. Colored Cauliflower
The "new kale" is a must-have at the dinner table. Now available in purple, orange, and green, cauliflower is perfect for roasting whole or in florets!

9. Sunchokes®
Sunchoke purée used to be something you'd only see on a restaurant menu. Now you, too, can impress your guests with these knobby little roots.
About Frieda's Inc.
Frieda's Specialty Produce celebrates a 53-year legacy of inspiring new food experiences for friends, family, and food lovers everywhere. Credited with introducing more than 200 specialty fruits and vegetables to U.S. supermarkets, Frieda's has helped introduce unique items like Stokes Purple® Sweet Potatoes, Sangria Artichokes, Habanero Peppers, Sunchokes®, and Organic Finger Limes. Founded in 1962 by produce industry icon Dr. Frieda Rapoport Caplan, subject of the 2015 documentary "Fear No Fruit," the family company is now owned and operated by Frieda's daughters, Karen Caplan and Jackie Caplan Wiggins, in Orange County, California. Find Frieda's on Facebook, @FriedasProduce, and Friedas.com. Inspire. Taste. Love.
###