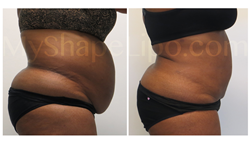 I lost 11 inches around my waist from my procedure at MyShape Lipo, that was pretty cool.
Las Vegas, NV (PRWEB) November 19, 2015
Some people say that getting liposuction is the easy way out, but Denise R. from Las Vegas used it as fuel to motivate her to change her life through healthy living. After her liposuction procedure at MyShape Lipo nearly a year ago, Denise has been following a healthy diet and hitting the gym 3-4 days per week.
Liposuction expert and owner of MyShape Lipo, Trevor Schmidt PA-C was featured on FOX 5's More Show, November 18, 2015 discussing Denise's new found motivation and success. He highlights the point that many people get motivated to live a healthier life with diet and exercise following their liposuction procedure.
"I lost 11 inches around my waist from my procedure at MyShape Lipo, that was pretty cool" says Denise. "After that I was tired of being fat, now it's time to look and feel good about me. So I changed the way I eat and started doing Cross Fit."
In our society fueled by fast food, the rates of obesity have been steadily rising with more than one-third (34% or 78.6 million) of U.S. adults being obese, according to the Journal of American Medicine (JAMA). Obesity related conditions including heart disease, stroke, type 2 diabetes and certain types of cancer are some of the leading causes of preventable deaths.
It's no secret that healthy diet and exercise play a pivotal role in our overall health. Yet people still struggle to find the motivation and drive necessary to succeed and achieve the weight or body shape they desire. Most people fail to have the discipline to maintain a healthy diet with so many temptations in the media.
"The number one reason people fail diet and exercise is that they don't see the results," says Trevor Schmidt PA-C the liposuction specialist at MyShape Lipo. "With liposuction you get the results quick then you're motivated to maintain what you have, so you exercise and stick to a diet."
The CDC estimates that the annual medical costs related to obesity in the U.S. was $147 billion in 2008. It's believed that costs for those who are obese were $1429 higher than those of normal weight.
"Once the fat has been removed through liposuction, most people are motivated to protect the investment they have just made in themselves," says Schmidt. "When you see that fat flowing out of your body, it's liberating and exciting, you don't want to ruin that."
"It was easy for me, I see pictures of the way I was before liposuction and I never want to let myself get like that way again," said Denise R. "I love the way I feel now, I'm happy with myself."
About MyShape Lipo
MyShape Lipo is a speciality liposuction clinic located in Las Vegas, NV that attracts nearly 70% of their patients from out of state. Trevor Schmidt PA-C, the owner and liposuction specialist has the experience of preforming over 15,000 liposuction procedures on all body types. They offer complimentary "Body Shape Analysis" both in person for locals or over the phone for those out of state. With transparent affordable pricing and industry leading customer service, MyShape Lipo can help remove unwanted fat through liposuction, move the fat to the breasts or butt through fat transfer or tighten the skin with Smart Lipo Laser Skin Tightening. To set up a complimentary Body Shape Analysis, call today 702-818-5476 or visit their photo gallery online at http://www.MyShapeLipo.com.