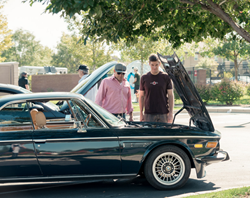 Connect First and World Racing League are extremely proud to support the Anchor Center for Blind Children.
Boulder, Colo. (PRWEB) November 19, 2015
The company's first ever title race, the "Connect First Charity Challenge," kicked off its debut on Labor Day weekend at the High Plains Raceway located near Byrnes, Colo. With nearly 30 teams and over 200 people racing throughout the two-day endurance event, this charity race put Connect First and World Racing League on the right track by raising $6,000 in donations. Raffle prizes included an iPad, a Mario Andretti autographed helmet and a set of free Yokohama tires.
Connect First COO and lifetime racing enthusiast Dan Candee raced in the event. "Connect First and World Racing League are extremely proud to support the Anchor Center, which helps blind children live the best life possible through early intervention vision services," said Candee. "We were thrilled to have helped them raise $6,000 while pursuing one of our passions: endurance racing."
All proceeds will find their home at Anchor Center for Blind Children, a fundamental Colorado foundation that helps childhood blindness. For more information on the Anchor Center for Blind Children, please visit their website here.
The Connect First Foundation strives to make a positive difference in the Colorado Community, and has raised over $55,000 to date in charitable efforts. CFF has sponsored and raised funds for other notable institutions such as Front Range Hippotherapy and the American Diabetes Association – Tour de Cure.
About World Racing League: WRL is a nation-wide endurance racing series founded on the premise that amateur road racing should be safe, affordable and enjoyable, without unnecessary hassles, politics or barriers to participate, and without losing the flavor and nature of real competition.
About Connect First: Connect First is an award-winning SaaS telecommunications and cloud contact center software provider that focuses on customer satisfaction and elegant hosted solutions. Connect First offers a robust platform, designed and supported by a team of highly experienced engineers, designers and business analysts, and backed with personalized in-house customer care. Solutions include Cloud Routing, Inbound ACD, Outbound Dialing, Call Tracking, Interactive Voice Response (IVR), Voice Broadcast, Disaster Recovery, Predictive Dialer, Real-Time Telemetry, CDR Reporting and more. Through a consultative approach with each customer interaction, Connect First builds customized solutions to meet the needs of a discerning customer base. Visit http://www.connectfirst.com for more information or a free consultation with a contact center solutions expert.