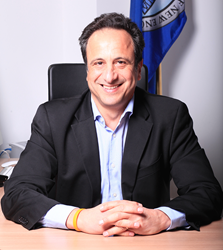 Portland, ME (PRWEB) November 19, 2015
Trailblazing University of New England scholar, professor and administrator, Anouar Majid will present a lecture titled, "Islam in Today's Global World," at the Brick Store Museum program center in Kennebunk, Maine, on November 21, at 2 p.m. This event is free and open to the public.
Majid, who serves as UNE's vice president for Global Affairs and as founding director of its Center for Global Humanities, will draw from his experiences as a native of Tangier, Morocco, and as general manager of UNE's Tangier Campus, as well as from his extensive academic work on this topic.
As one of today's leading scholars on the relationship between Muslims and the West, Majid is uniquely qualified to comment on Islam's place in the modern world, its cultural and global significance, and the role feminism plays in Muslim societies.
The Islamic State's terrorist attacks and flow of predominantly Muslim refugees across the Middle East and Europe have underscored in recent weeks the importance of today's citizens, educators and policymakers working to understand the cultural and historic context of the gulf between Islam and the West. Through his lecture, Majid will be able to provide that perspective.
"We are in the midst of a major global crisis," says Majid. "Perpetuating conventional wisdom will only contribute to further persecution of innocent people. We have a responsibility to reverse this trend of destruction by overcoming our cultural fears and thinking critically about these issues. This is not the time for empty platitudes."
Majid is a prolific author, with five critically acclaimed books on the relationship between Islam and the West, as well as countless articles and op-eds on the topic. He is also a novelist, the author of Si Yussef. In addition to his several roles at UNE, he serves as editor of the online Moroccan-American magazine, Tingis.
About The University of New England
The University of New England (UNE) is Maine's largest private university. It offers dozens of undergraduate, graduate and professional degree programs and is home to Maine's only medical and dental schools. With coastal campuses in Portland and Biddeford, Maine, and one in Tangier, Morocco, UNE attracts internationally recognized scholars in the sciences, health, medicine and the humanities. It is one of a select group of academic institutions with a comprehensive health education mission that includes programs in medicine, pharmacy, dental medicine, nursing and an array of allied health professions. Visit http://www.une.edu. Innovation for a healthier planet.
###