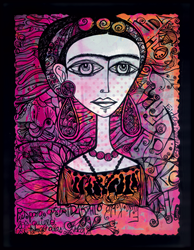 Los Angeles (PRWEB) November 19, 2015
Los Angeles fashion house Jemae today announced the launch of its second humanitarian campaign, a stunningly beautiful Frida Kahlo scarf available at Jemae.org and on Etsy. Proceeds from the sale of the limited edition scarf will benefit Inner-City Arts, long considered one of the nation's top providers of arts education for children that has taught more than 250,000 at-risk youth over the last 25 years.
"We're excited to launch the Frida campaign in partnership with Inner-City Arts," said Rob Carpenter, Jemae Founder. "Not only is the scarf a piece of visual ecstasy, but it is also the most environmentally friendly scarf ever produced. The scarf is made with no water and no chemicals, and that's huge. It's safe for people of all ages to wear and is machine washable."
Proceeds from the sales are meant to raise substantial funds to help educate homeless and at-risk kids in visual art, theater, and dance on Inner-City Arts's famed Skid Row campus.
###
About Inner-City Arts
Founded in 1989 as a learning oasis in the heart of downtown Los Angeles, Inner-City Arts cultivates a sense of agency and possibility within Los Angeles' youth through the transformational power of creativity. Professional teaching artists engage students in the visual, media and performing arts in an authentic studio setting. Services include instructional day classes for K-8 students, afterschool and weekend workshops for middle and high school students, diverse and innovative performances in The Rosenthal Theater for community audiences, and creativity-based professional development for teachers and other educators.
About Jemae
Jemae is a"fashion for humanity platform." Every few weeks it teams up with a top designer to create limited edition designer products that benefit humanitarian projects. Jemae's mission is to love, heal, and empower people throughout the earth.