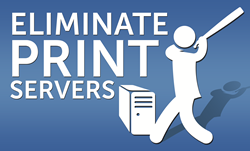 Being named the 107th fastest growing company in North America is great validation that our mission to eliminate print servers is resonating.
Saint George, Utah (PRWEB) November 19, 2015
PrinterLogic, the leading Enterprise Print Management solution, was named to Deloitte's 2015 North America Technology Fast 500™. PrinterLogic was ranked 107th.
"It's an exciting time to be part of PrinterLogic," said Ryan Wedig, President and CEO of PrinterLogic. "Being named the 107th fastest growing company in North America is great validation that our mission to eliminate print servers is resonating."
Awardees are selected for this honor based on percentage fiscal year revenue growth from 2011 to 2014.
Wedig continued, "There are a lot of venture-backed startups that grow by spending two dollars to gain a dollar of revenue. Our ability to consistently produce high margins and positive cash flows through 100% organic bootstrapped efforts is unique. The success we've achieved speaks to the caliber of our team, and I can't wait to show what we've done this year when the 2016 rankings come out."
"Amid a fierce business climate, there seems to be no shortage of new and established companies that are unlocking a seemingly unlimited potential for growth and advancement through technology's continued disruption and proliferation across industries," said Sandra Shirai, principal, Deloitte Consulting LLP and U.S. technology, media and telecommunications leader. "It is inspiring to witness the innovative ways that companies are incorporating emerging technologies for business gains. We congratulate all those ranked on this year's Fast 500 and look forward to seeing their continued growth into 2016."
The Technology Fast 500 is the leading technology awards program. Combining technological innovation, entrepreneurship, and rapid growth, Fast 500 companies—large, small, public, and private—hail from cities far and wide across North America: from San Francisco, CA; to Rockville, MD; to Richmond, British Columbia and are disrupting the technology industry. Representing industries from software to biotech, Fast 500 companies play in the SaaS, cloud computing, data analytics and mobile sectors.
About PrinterLogic
PrinterLogic is the world's leading Enterprise Print Management solution for server-less remote site printer deployments. With more than 1,500 customers in over 120 countries, PrinterLogic enables organizations of all sizes to eliminate print servers. PrinterLogic's single integrated printer management platform is an on-premises web application that simplifies the management, migration, and deployment of printers while drastically reducing cost. For more information, or for a free trial, please visit http://www.printerlogic.com. Questions? Watch our video or connect with us on Twitter at @PrinterLogic or follow us on Facebook, LinkedIn, YouTube, Instagram and Google+.