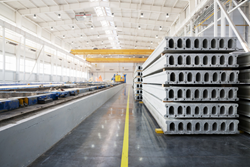 "The use of any accelerator inevitably dehydrates the concrete during the curing process. The Powerblanket solution, on the other hand, insulates and heats the concrete externally, maintaining its very needed moisture content."
Salt Lake City, Utah (PRWEB) November 20, 2015
Powerblanket recently released their new and improved precast concrete product curing blankets. These blankets are customizable and can increase precast manufacturers' throughput by as much as 300%. Powerblanket precast curing blankets help to cure concrete faster and more efficiently than accelerators and other admixtures.
When it comes to precast production, curing times are slow and have long been the most time consuming part of production. This is especially true during the colder months, when the drop in temperature affects the curing rate exponentially. As a result, precast manufacturers often use accelerators (admixtures that speed up the process of curing) in order to cure concrete in cold weather and to increase their throughput. But the use of admixtures doesn't come free of unwanted side effects.
"The problem with using accelerators is that they can affect the integrity of the concrete," said Brent Reddekopp, President of Powerblanket. "The use of any accelerator inevitably dehydrates the concrete during the curing process. The Powerblanket solution, on the other hand, insulates and heats the concrete externally, maintaining its very needed moisture content."
The inception of Powerblanket over one decade ago actually spawned from the use of certain technologies to cure concrete slabs faster and more efficiently. When Powerblanket started working with a precast company owned and operated by Brent Reddekopp, Brent took the initiative of designing solutions specific to the precast business.
"Back when I ran my own precast business, we were pouring forms once a day, like most everyone else," Brent said. "But I thought that was ridiculous. When I met Powerblanket and found out about their technology, I knew it could be applied to precast. I got with the engineers and designed the first precast blanket. After that, we went from pouring once a day to three times a day."
In addition to its superior curing capabilities, Powerblanket heating solutions are easy to install, remove, transport, and store. So when a form of concrete is cured, the operator can remove the blanket quicker than the form itself. What's more, Powerblanket heating solutions can be customized to fit just about anything. So if you use unique precast forms, there's no need to fret, Powerblanket can cover it, quite literally.
More about Powerblanket
Powerblanket® started in 2005 in Salt Lake City, Utah with one goal – to solve heating problems. Since that time, Powerblanket has become an industry leader in offering such solutions to the construction sector. Featuring patented GreenHeat™ technology, Powerblanket products delivers a barrier of uniform, directional heat where it's needed most – preventing freezing problems and maintaining optimal temperatures. This Innovative heat-spreading technology insulates, protects, and maintains heat in a wide variety of applications. Discover how Powerblanket GreenHeat™ Technology can dramatically improve your output…and bottom line. For more information about Powerblanket, click here.