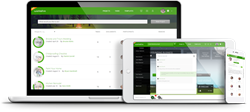 Imagine what Google does for search and what Facebook does for relationships. Worksfire will do that for the way we work together
Murrieta, CA (PRWEB) November 23, 2015
New cloud-based project management software has officially launched! Worksfire provides a business automation and collaboration platform designed to empower teams to work better together has just officially launched to the public. The platform is called Worksfire, and according to its owners, it will revolutionize the way people work together. Worksfire creator, Patrick Gorrell, described it this way, "Imagine what Google does for search and what Facebook does for relationships. Worksfire will do that for the way we work together".
Worksfire believes that businesses can contain costs, increase productivity and eliminate common mistakes by solely automating their business processes. However; Worksfire didn't stop with just business automation, they have also combined project and task management, document storing and sharing, instant messaging, and contact management into one robust, yet easy to use system. The days of having to use multiple systems to accomplish your business goals are finally over!
And as if you thought it couldn't get better. Worksfire provides a public portal for company services where customers and third party affiliates can automatically begin working with your company in their own completely branded workspace! That's right each Worksfire customer receives a fully branded workspace, which comes fully loaded with every powerhouse tool that Worksfire has to offer.
In short, Worksfire is aiming to streamline the way people work together, making it easier to do business together.
About Worksfire:
Worksfire is a California-based tech startup founded in June 2014 by Patrick Gorrell, semantic web development expert. Worksfire has developed a cloud platform for Social Business automation. Connecting tasks, projects, documents and people, Worksfire allows everyone to work better together and accomplish more. To request a demo, visit http://www.worksfire.com.
Worksfire Inc. is the company behind the creation of Worksfire. The company is based in Murrieta, California. It has a team of people who believes in the concept of simplicity. This belief in simplicity is the one thing that led them to create one simple system.