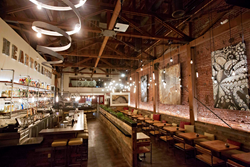 "This project was a dream for us. We are grateful for the encouraging response we've received about the look and feel of the design, as well as our 'heartcrafted' dining experience," said Guolo-Migotto.
Napa, California (PRWEB) November 19, 2015
Downtown Napa's newly opened Ca' Momi Osteria melds together the Italian roots, Old World heritage, heartcrafted cuisine and California lifestyle of Ca' Momi's founders, Valentina Guolo-Migotto, Dario De Conti and Stefano Migotto. The Osteria opened on October 13, 2015.
"In designing the restaurant, our intention was to incorporate the architectural history of the space, as well as our own 'modern rustic' design aesthetic and environmentally conscious attitude," said Valentina Guolo-Migotto, who collaborated with designer Catherine Enny to create the new Osteria. Together, the design duo found talented Bay Area artists "to help us bring our vision to life with the same intention and consciousness," added Guolo-Migotto.
Ca' Momi Osteria occupies a historic 19th century building with weathered brick walls along the full length of the interior, and original beams and ironwork. The design team fully renovated this former blacksmith and wagon repair shop, preserving historical details throughout.
"This project was a dream for us. We are grateful for the encouraging response we've received about the look and feel of the design, as well as our 'heartcrafted' dining experience," said Guolo-Migotto.
The soaring two-story ceiling has a constellation of pendant lights hanging from the rafters, creating an inviting and open atmosphere. Recurring "bianco" and "rosso" colors, cowhide-upholstered banquettes and pillows, and a textural palette of reclaimed wood and metal promote a natural, organic feel to the space.
On the left side of the Osteria, a long raw steel bar has seating for eighteen on cushioned stools. Behind these seats, there is additional space for standing drinks and conversation equipped with a narrow metal ledge topped with succulents. The bar program highlights all-natural, garden-to-glass cocktails, organic house-brewed beers, and natural spirits.
Handcrafted wood and metal dining tables, chairs, and light fixtures made from reclaimed and repurposed materials complete the Osteria dining room. A communal live-edge slab table for 12 is placed near the front entrance as a centerpiece, inviting guests to make themselves at home, meet new friends and enjoy a community dining experience. Above the table hangs an oversized spiral chandelier made of repurposed wine barrel rings; the wall sconces placed throughout the restaurant are made of the same. In keeping with Ca' Momi's sustainability philosophy, most of the Osteria's furniture and fixtures are repurposed, reclaimed or locally sourced.
Ca' Momi's Bay Area artist-in-residence, Jayashri Triolo, created several paintings and the design for the pizza oven mosaic after joining Ca' Momi's founders on a journey to their home in Padova, Italy. There, Triolo experienced their culture and lifestyle firsthand, and incorporated it into her work. Her three large canvas paintings are focal points in the dining room, and reflect themes important to Ca' Momi's three owners: heads of garlic representing the earth and soil that keep our traditions grounded; an octopus reflecting the food of Italy and the founders' love of the ocean, evolution and change (themes also prominent in the pizza oven mosaic); and a map depicting the Padovan countryside, saluting Ca' Momi's roots in Italy's Veneto region.
Sustainability was a key focus in the Osteria's design – from the clay and mineral-based paints on the walls, to the wainscoting made of recycled wood pallets from Ca' Momi Winery. Reclaimed wood and repurposed metal are incorporated throughout the space, with bar shelves, under-the-counter hooks, and chandelier bar lights fashioned from reclaimed pipes.
Succulent plants placed around the restaurant add organic warmth, color and life to the dining experience. Classic black and white Italian films are projected silently on the wall each night, evoking the pre-war glamour of la dolce vita – Italy's casual, sophisticated and passionate way of life that has almost disappeared in the modern age. A proprietary Ca' Momi playlist matches the relaxed, modern-rustic aesthetic.
The Osteria can accommodate 84 diners inside, and 12 at the inviting outdoor tables along First Street's broad sidewalks.
The Quick Details:
Interior Designers: Catherine Enny & Valentina Guolo-Migotto
General Contractor: Sax & Roscoe Flooring: Flooring Solutions
Plumbing: Karuza Plumbing Electrical: A&F Electric
Kitchen Features: Trimark Walls: Green Pallet
Resident Artist: Jayashri Triolo Custom Mosaic Oven: Jayashri Triolo & Kristina Young
Metal Work: Martin Kane Engineering Spiral Chandelier & Wall Accents: Michael Weiss
Pipe Accents: 9th Ave Iron Works Wine Country Craftsman
Upholstery: Pollins of Napa Mirrors: Iron Atelier
The Ca' Momi Mission:
We are three passionate dreamers and seekers of truth, committed to mindful eating, drinking and celebrating life. We work to build a heart-centered community where everyone has a sense of purpose, belonging, and boundless possibility. We don't compromise traditions, values, or ourselves. Eat. Be. Authentic.
About Ca' Momi:
Ca' Momi brings the soulful traditions of Italian food and wine to the Napa Valley. We call what we do heartcrafted, because that's how we work: with passion, integrity, and authenticity. We honor the values of an earlier time with everything we do, from our local and organic ingredient sourcing, VPN/APN-certified Pizza Napoletana, traditional recipes and products, to our zero-pretension wines, beers, and all-natural craft spirits. We are obsessively authentic.
About Ca' Momi Osteria:
Ca' Momi Osteria brings Italy's soulful dining traditions to Napa Valley with obsessively authentic Italian cuisine, community, and passion. In addition to true Neapolitan pizza certified by both Verace Pizza Napoletana (VPN) and the Associazione Pizzaiuoli Napoletani (APN), the Osteria offers a full menu of traditional handmade pastas and rustic home-style dishes made with local meats, seafood, and organic produce. Community comes together here with local Ca' Momi and Italian wines, garden-to-glass cocktails made with all-natural craft spirits, and organic house-brewed beer. Ca' Momi Osteria's heartcrafted cuisine is certified by Ospitalitá Italiana for its authenticity, traditions, and quality.
The Osteria is open seven days a week. Lunch is served from 11am-5pm; a "L'aperitivo" menu of reduced price cicchetti, pizzas and salads is available from 3-5pm; and dinner is offered from 5-10pm. Late-night service with a limited menu starts at 10pm on Friday and Saturday nights, with occasional live music and entertainment.
Online:
http://www.camomi.com // Twitter: @CaMomiNapa + Facebook: @CaMomiNapaValley + Instagram @CaMomiNapaValley
###