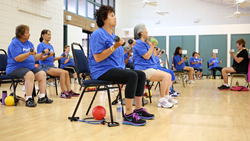 "We are thrilled to become part of the Silver&Fit national facility network," said David Ozmore, CEO of the YMCA of High Point. "With the Silver&Fit program, seniors can maintain an exercise routine that can improve their overall quality of life."
HIGH POINT, NC (PRWEB) November 19, 2015
The YMCA of High Point is pleased to announce that it is now offering the Silver&Fit® Exercise and Healthy Aging Program at its locations in the High Point area. The Silver&Fit program offers Medicare beneficiaries no-cost or low-cost memberships at the YMCA of High Point. The program covers all classes offered by the YMCA of High Point.
The Silver&Fit program was designed to help older adults achieve improved health through regular exercise by providing them with no-cost or low-cost access to contracted fitness clubs or exercise centers.
"Regular exercise has been proven to reduce the risks for heart disease, cancer and other ailments, and improve quality of life for aging adults," said said ASH Fitness Vice President Brett Hanson, MBA, MBF, DFSS, NASM-SFS.
"We are thrilled to become part of the Silver&Fit national facility network," said David Ozmore, CEO of the YMCA of High Point. "With the holidays approaching, the timing is perfect. We invite our senior community to join us and begin a regular schedule of working out before the holidays, since this is a time when people often gain weight. With the Silver&Fit program, they can maintain an exercise routine that can improve their overall quality of life."
For more information about whether your Medicare plan includes the Silver&Fit program, please contact your health plan or 1-800-MEDICARE. Qualified individuals or couples can call the Hartley Branch at (336) 869-0151, the Grubb Branch at (336) 861-7788, or the Chavis Branch at (336) 434-4000 for branch-specific information or a class schedule.
In the most recently completed survey of randomly selected Silver&Fit Fitness Facility members, nearly 98 percent of respondents expressed overall satisfaction with the Silver&Fit fitness facility program, and 98 percent stated that the group fitness classes improved their overall health. More than 78 percent said that their participation in the Silver&Fit program had improved their social network and helped them make friends.
The Silver&Fit program is available to people who are Medicare-eligible and have purchased Medicare Advantage or Medicare Supplement coverage that includes the Silver&Fit program as a benefit.
About the YMCA of High Point
With wide diversity in age, culture, economic status, race and social standing, the YMCA serves males and females as one of High Point's premier human service organizations. In 2014, over 24,000 persons ranging in age from six months to senior adults were served by programs provided by the High Point YMCA. Activities include camping, child care, leadership training, sports, special populations, and others as determined by branch committees and boards. For more information, visit http://www.hpymca.org/
About the Silver&Fit® Exercise & Healthy Aging Program
The Silver&Fit® program is an exercise and healthy aging program providing unique, evidence-based fitness and health education activities for Medicare beneficiaries and group retirees. Silver&Fit members have access to: no-cost or low-cost memberships at a participating, contracted fitness club or exercise center, or to the Silver&Fit Home Fitness program for those who prefer or need to work out at home; SilverandFit.com, a website providing health tools and resources specifically designed for older adults; The Silver Slate® newsletter; and a toll-free customer service hotline. For more information, visit http://www.ASHCompanies.com or call 800-848-3555. Follow us on Facebook at http://www.facebook.com/SilverandFit, YouTube at http://www.youtube.com/silverandfit, Pinterest at http://www.pinterest.com/silverandfit, Twitter at @SilverandFit and Instagram at @SilverandFit.
The Silver&Fit program is a product of American Specialty Health Fitness, Inc., a subsidiary of American Specialty Health Incorporated (ASH).