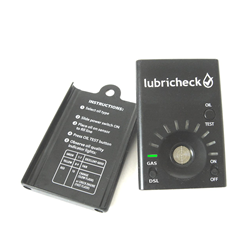 Your device will save me many hundreds of dollars in what would have been needless oil changes in the future. Thank you for that !! Matt Sweet, Prius driver
Shafer MN (PRWEB) November 20, 2015
Matt Sweet drives his Toyota Prius 300 to 500 miles a day, seven days a week, 365 days a year, and he loves it! Those miles are logged as an Uber driver, and as he shuttles senior citizens and the disabled to their medical appointments. Although this can be very rewarding work for Matt, 120,000 miles a year places serious demands on his 2011 Prius. "My car is my bread and butter, and I take good care of it!" said Matt in a recent phone interview. So, when he told his coworkers that he had just gone 40,000 between oil changes, they were shocked!
Matt is a curious guy, so after purchasing a Lubricheck oil tester several months ago, he decided to monitor his oil condition and see just how many miles he could get out of an oil change. As he periodically tested his oil with the pocket sized Lubricheck, he kept getting "green lights" meaning the oil was still "good". However, by 26,000 miles he was getting nervous! To reassure himself that the little electronic gadget was accurate, Matt sent an oil sample to Blackstone Labs for full analysis. Much to his relief, Blackstone told him his oil was within normal specs and in good shape for continued use.
Fast forward another 14,000 miles (about 35 days of normal driving for Matt). Now at just over 40,000 miles since his last oil change, the Lubricheck had progressed to LED #7 out of 10. Still a green light! Once again, Matt sent a sample to Blackstone Labs. Once again, Blackstone confirmed that the oil was still in acceptable condition. The report explained that the modest increases in "wear metals" and silica since the last sample were still within the acceptable range for a Prius. At this point Matt decided that he had gotten his money's worth from the Mobil 1 in his engine, and he replaced it with a fresh fill of Mobil 1, 0W20. And with 40,000 miles on his Fram Tough Guard oil filter, he replaced that, too.
So what did Matt learn from this experience?
1. If he had changed his oil every 3,000 miles, (like over 50% of American drivers), he would have made 12 more trips to the oil change shop in the past 10 months. (There he would have needlessly spent an additional $620, and wasted 12 hours reading old automotive magazines in the waiting room).
2. Mobil 1 is a pretty good oil, and Toyota makes a pretty clean running engine.
3. Lubricheck is a pretty serious oil tester, in spite of it's small size and low cost.
4. Maybe now, his driver friends will not think he is crazy for extending his oil change interval.
At present, Matt will continue his Uber driving and his new 40,000 mile oil change interval. He will keep monitoring his oil with the Lubricheck to catch any unexpected change in oil quality due to seasonal conditions, or developing engine problems. As Matt said in an email to Lubricheck, "You probably already had complete faith in the accuracy of the Lubricheck, but for me, although I thought your device was most likely reporting accurate results, I now feel very good about my high mileage oil change path after employing Ronald Reagan's "trust, but verify" line of thinking. Your device will save me many hundreds of dollars in what would have been needless oil changes in the future. Thank you for that !! Best of luck with any and all future endeavors."
The reusable Lubricheck digital oil tester works on all gas and diesel engines. For more information on the science behind the Lubricheck and how it is used, check Lubricheck.com or the Lubricheck channel on Youtube. The Lubricheck is available for about $50 at Amazon.com, Sears.com, Newegg.com and the official Lubricheck website.
For further information about Lubricheck, contact info(at)waveon(dot)com or call WaveOn Technologies at (866) LO-WASTE. Lubricheck is designed and assembled in the USA by WaveOn Technologies, Inc. A new model for testing hydraulic fluid will be introduced by Jan 2016.