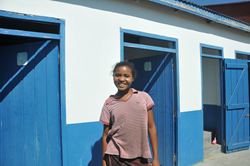 Around the world, people struggle, and women and girls are especially affected, risking shame, disease, harassment and attack simply because they have nowhere safe to go when nature calls.
New York (PRWEB) November 19, 2015
The new report by the international nonprofit, WaterAid, includes an analysis of the rate of access to sanitation for the world's 193 countries, and reveals the hardest place in the world to find a toilet, the countries where the most people can be found waiting for a toilet, and which developed nations are among the surprising offenders, including Canada, the UK, US and Sweden. The world's youngest country, South Sudan, is also the country with the worst household access to sanitation globally, followed closely by Niger, Togo and Madagascar.
In addition to concerns around safety and dignity, the lack of toilets results in a contaminated environment in which diseases spread fast. An estimated 315,000 children under five die each year of diarrheal illness which could be prevented with safe water, good sanitation and good hygiene. Many more have their physical and cognitive development stunted through repeated bouts of diarrhea; half of malnutrition is attributed to dirty water, poor sanitation and lack of hygiene.
"Here in the US, it's all too easy to take our access to safe, private toilets for granted; worrying about where to 'go' is not something that most of us have to think about", said WaterAid America CEO Sarina Prabasi. "While we haven't entirely solved the issue ourselves—36,000 Americans today don't have a safe, private toilet—the state of the world's toilets is no joke. Around the world, people struggle, and women and girls are especially affected, risking shame, disease, harassment and attack simply because they have nowhere safe to go when nature calls."
WaterAid tapped into the talent of artist Julia Heffernan, creator agency, The Pub, Joystick Interactive and Collab LLC to build a World Toilet Day campaign that would help inspire people to take action on the issues laid out in the report.
"If you haven't lived it for yourself, it can be hard to wrap your head around the implications of the sanitation crisis," said Tiffany Rolfe, Chief Content Officer at The Pub. "We set out to find a way to engage people in a way that they can relate to. The poop emoji offered a fun entry point for starting a more serious conversation about the stats highlighted in The State of the World's Toilets report. We felt like the most effective way to raise awareness about this deadly issue was by leveraging pop culture and online creators, and The Pub has been delighted to help WaterAid achieve that".
Available for free download at http://www.giveashit.info, WaterAid's #GiveASh*t app allows everyone to create their own custom poop emojis, learn sanitation facts and take a stand on behalf of the 2.3 billion people today who live without access to a basic toilet. The app also allows users to make a $10 donation to the cause simply by sending a text. A wide range of entertainers, activists, YouTube celebrities and Vine stars will join WaterAid in recognizing World Toilet Day by sharing their personalized poop emojis.
##END##
About WaterAid
WaterAid is the #1 ranked international non-profit dedicated to helping the people living in the world's poorest communities gain access to safe water, toilets and hygiene. WaterAid has programs and influence in 37 countries across Africa, Asia, the Caribbean, Latin America and the Pacific region. Since 1981, WaterAid has reached 23 million people with safe water and, since 2004, 21 million people with toilets and sanitation.
Connect with WaterAid at facebook.com/WaterAidAmerica and @WaterAidAmerica, or find out more at WateraAid.org/us.

Around 860 children die every day from diseases caused by dirty water and poor sanitation.
1 out of every 3 girls in Sub-Saharan Africa drops out of school once she starts menstruating, because there are no toilets at her school
Women and girls living without any toilets spend 97 billion hours each year looking for a place to go to the bathroom
The lack of access to sanitation costs the world's poorest countries $260 billion each year.