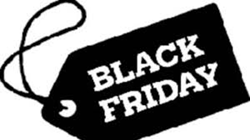 As the end of November approaches, so does Black Friday—the world's BIGGEST shopping day of the year!
Boyd, WI (PRWEB) November 24, 2015
This time of year, shoppers from all over are chompin' at the bit to find good deals this holiday season. As the end of November approaches, so does Black Friday—the world's BIGGEST shopping day of the year! While the vast majority of stores reserve their deals until the day itself or the evening hours of the day before (Thanksgiving), you can find some outfits who offer crazy deals all week long.
With lots of inevitable travel and hustle-bustle on November 26 and 27, companies like Everything Summer Camp are extending their sales from the night of November 24 until December 1 in order to give their customers a chance to jump on the great sales they have going on. Here's a list of the deals that they're offering:
1.) The Wenzel Sprout Discount
An excellent selection for sleeping satisfaction in summer weather—and perfect for overnights when it's too chilly outdoors—the Wenzel Sprout is a great, versatile sleeping bag at an affordable price. Here's the deal: spend $50 this week at everythingsummercamp.com and get the Wenzel Sprout for just $9.99! With only 50 of these Sleeping Bags available, shoppers should be sure to spend fast if they want in on this awesome deal!
2.) Camping Gear Discounts
With a name like Everything Summer Camp, they certainly offer lots of camping gear! And all of it is on sale this week! Find great Sleeping Bags like the Wenzel Sunward as well as awesome rain gear like the Frogg Togg's Polly Wogg Youth Rainsuit. Check out portable fans including the Funky-Flexi Fan and Flashlights—featuring the miniMongo. Find quality Camping Equipment like the Light My Fire Lunch Kit and excellent Backpacks like JanSport's Overexposed masterpiece. Find ridiculous deals scattered across all departments as well as their Water Bottles, Insect Repellent, Sunscreen, and Camp Chairs!
3.) Camp Trunk Discounts
Everything Summer Camp is the home of C&N Footlockers so of course they have deals on their camp trunks! Their Pattern Trunks make perfect presents for the holiday season. Normally priced at $189.99, Pattern Trunks will be $129.99 this week! Get other select trunks at $25 off.
4.) Soft Trunk and Duffel Discounts
Some camps don't allow hard trunks. If steel trunks are a no-go, get the Pop Up Soft Trunk—regularly priced at $119.99—get it for $89.99 this week. The Pop Up Soft Trunk's convenient counterpart, the Piggy Back Duffel is on sale for a good deal too—regularly $44.99, get it this week for $34.99!
An endless list of summer camp supplies and camping gear make for great Christmas gifts. Visit everythingsummercamp.com this Black Friday to find great deals on quality camping products.
About Everything Summer Camp
Everything Summer Camp has been helping kids get ready for summer camp since 1987. Their wide selection of camping gear includes camp trunks and other camping supplies. Top selling items include water bottles, cot-sized bedding, rain jackets, insect repellent, iron on labels, and more. Known for their customer service and fast shipping Everything Summer Camp is recommended by more camps than any other camp outfitter.
Visit http://www.EverythingSummerCamp.com to learn more about camp footlockers, name labels, duffel bags, and camping supplies.