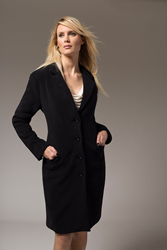 SAN FRANCISCO (PRWEB) November 19, 2015
Jill Milan®, a provider of luxury vegan fashion and accessories, today announced its Vegan Recipe contest. The winning entrant will receive a new Jill Milan coat. Entries will be accepted through November 26.
Entrants must submit their recipes at the Jill Milan Facebook page by submitting a recipe for a favorite vegan dish, along with a photo of the finished item. Contestants may enter as many times as they wish and the coat winner will be selected at random. Full contestant rules can be found at the Jill Milan Facebook page.
The contest opened Nov. 18 and early entrants include British-born designer Claire Farwell, founder of fashion label Claire Farwell London, who shared a vegan shepherd's pie. Another early entry comes from The Vegan Chickpea, an award-winning blogger, who contributed a recipe for vegan ice cream.
The Jill Milan Long Coat was designed by celebrity stylist Laura Spinella and is made by a couturier who has worked with the L.A. Opera and celebrities ranging from Cindy Crawford to Britney Spears. Made in the United States, the coat is both eco-friendly and cruelty-free.
All Jill Milan products are free of all animal-based materials, such as leather, fur, silk and wool. Ms. Fraser, a longtime vegan and supporter of animal-welfare initiatives, was inspired to found Jill Milan because she was unable to find high-quality, luxury handbags that were not made of leather or other animal-based materials. Jill Milan was named Vegan Business of the Year by Vegans Are Cool.
Jill Milan appears frequently on the red carpets of Hollywood, New York and Europe. Among the celebrities who carry Jill Milan are Academy Award winners Anne Hathaway and Jennifer Lawrence, who carried Jill Milan to multiple premieres for their films. Other actresses and singers who have carried Jill Milan for red-carpet appearances include Joanne Frogatt of "Downton Abbey"; Amy Poehler, who carried Jill Milan when she was both nominee and presenter for the Emmy Awards; Academy Award nominee Hailee Steinfeld, who was on many best-dressed lists when she carried the Jill Milan Disc Clutch to the MTV Video Music Awards; and Kerry Washington of ABC's "Scandal."
Jill Milan handbags have drawn growing attention from influential fashion media. W Magazine has covered Jill Milan in multiple issues, recognizing the Octagon Clutch and Art Deco Clutch in its "Most Wanted" feature, and The Zoe Report recognized the Newbury Street Portfolio for its ability "to go from the office to cocktail hour."
About Jill Milan
Jill Milan is a luxury provider of cruelty-free handbags, apparel and fashion accessories. Made of exquisite materials, Jill Milan handbags are crafted in Italy by artisans who have created handbags and accessories for some of Europe's best known fashion houses. All Jill Milan products are free of animal-derived materials, and the company contributes to animal-welfare organizations. Jill Milan, founded by Jill Fraser and Milan Lazich, is the only luxury handbag line entirely free of animal-derived materials which regularly appears on Hollywood's red carpets. Visit Jill Milan on the Web and follow Jill Milan on Facebook.
Jill Milan and the Jill Milan logo are registered trademarks of Jill Milan LLC, and are protected by trademark laws of the United States and other countries. Emmy is a trademark of the Academy of Television Arts & Sciences. Academy Award is a registered trademark of the Academy of Motion Picture Arts and Sciences. All other product and company names are trademarks or registered trademarks of their respective companies.