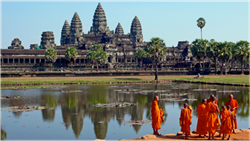 India's tourism travel has increased by 900 percent in 2015, which is attributed primarily to the new eTourist Visa
New York, NY (PRWEB) November 23, 2015
In September, The Economic Times reported (http://www.economictimes.indiatimes.com/nri/visa-and-immigration/india-to-reduce-electronic-tourist-visa-scheme-fee/articleshow/49170467.cms) that India's tourism travel has increased by 900 percent in 2015, which is attributed primarily to the new eTourist Visa (ETV) program. The success has been so great that India is now planning to keep the ball rolling by reducing the India visa application fees for many travelers. Similar reports are expected from more countries as their governments adopt the e-Visa process, such as Kenya and Bahrain did in 2015.
People are traveling the world in record numbers, largely thanks to electronic visas and new e-visa services. Some nations are new to opening their doors to the world, but e-visas have made the process simpler, faster, and less costly. As a result, countries historically lacking in manual visa services, such as Kenya, Sri Lanka, Bahrain, Turkey, and Cambodia, can now offer e-visas with relative ease, boosting their economies and expanding tourism opportunities. And in those countries for which tourism has always been popular, such as Australia, India, and Argentina, e-visa services have made traveling to these destinations easier than ever.
Know What Is Needed
Applying for an electronic visa and other required travel documentation may seem daunting at first glance, but there are services available that can be a great help. For example, iVisa.com offers a quick screening form to help travelers identify visa requirements simply by providing their countries of origin and destination. This is an extremely useful tool to help travelers understand Electronic Travel Authorization (ETA) requirements, such as for Australia, Sri Lanka, and Cambodia, as well as reciprocity fees, most notably required by Argentina.
What is the Electronic Travel Authorization (ETA)?
The Electronic Travel Authorization (ETA) is used by many countries to help identify those travelers who will not be allowed into the country before they make the journey. Some countries use ETA certification to prevent the spread of Ebola; others include this requirement to help monitor and prevent security risks. By applying for and receiving an ETA in advance, travelers can be confident that there will not be any unexpected limitations to entering the destination country once they arrive.
Technology Surges Ahead of Government Services
The world today is a busy place, and smartphones are designed to help us work efficiently from wherever we may be. Government services tend to change gradually, but helpful smartphone apps can bridge the gap and add functionality to these services. iVisa's iPhone app is available through Apple's iTunes store, and allows users to check visa requirements for a new trip, submit a new visa application for a number of destination countries, and stay updated with current or pending visas. Using a professional service makes applying for electronic visas faster and easier, and also helps travelers feel more confident and secure in knowing that all their arrangements have been made properly and on time.