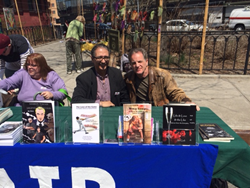 "Authors who sign with Boulevard Books will receive 100% of royalties made on the sales of their books."
Staten Island, NY (PRWEB) December 21, 2015
For far too long Authors have been exploited by publishers who pay minimal advances and take the largest share of royalty money. Boulevard Books aims to change that unfair relationship. Beginning immediately Boulevard Books will offer prospective authors the opportunity to receive 100% of any royalty money made off the sales of their books.
Boulevard Books 100% Royalty Program gives authors the power to not only set a competitive retail price for a book, but reap all the benefits as well. On each copy of the book sold either through our extensive distribution network including retailers like Amazon and Barnes and Noble, an author will receive 100% of all the proceeds.
Boulevard Books 100% Royalty Program provides a unique advantage in the publishing industry and empowers authors, while giving book titles the edge they need in a competitive market place. The 100% royalty program is applicable to all formats and trim sizes.
Boulevard Books is an educational publishing company founded in 2010 by educator and author, Avi Gvili.