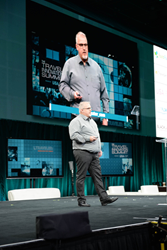 Reykjavik, Iceland (PRWEB) November 19, 2015
TripCreator, winner of the Web Awards 2015 for Best Travel Website, has announced its plan to add new destinations to its platform. By the end of 2016 users will be able to use TripCreator to plan trips to all of Europe and North America. New regions will be added regularly over the next 12 months with Ireland being available for planning as of today. This was announced during the PhocusWright Travel Innovation Summit in Fort Lauderdale, Florida today by CEO Hilmar Halldorsson.
Hilmar Halldorsson, founder and CEO, says:
"The website, that has been in development for the last three years, was launched in May with Iceland as its only destination while still in the "proof of concept" phase. We have received overwhelmingly positive response and our customers have said they wished they could use TripCreator to plan trips to every country. We don't want to disappoint so we have been working on an extensive plan for expansion and expect to offer all of Europe and North America as destinations by the end of 2016."
About TripCreator
TripCreator is an Icelandic startup that has developed an online trip planner where users can plan and book a complete trip in one place. The algorithms behind the tool were built in-house and each user gets an itinerary that is generated personally for him based on his preferences. The user can then modify the plan as he pleases and when he is ready he can book hotels, tours & activities and rental cars in a single checkout on the site. 
Video explaining TripCreator: http://www.youtube.com/watch?v=o_VdEPjGpm8
For further information please contact
Lella Erludottir, marketing and communications
lella(at)tripcreator(dot)com
Mobile: +354-8681223
Notes for editors
Hilmar Halldorsson, CEO, is available for an interviews. Please contact him at hilmar(at)tripcreator(dot)com. He is a passionate entrepreneur who worked as an executive manager in advertising for 16 years before following his passion and founding TripCreator in 2013.