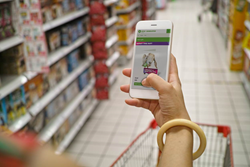 With real-time location data and technology, xAd can help Oxfam America identify and activate key audiences when they are most likely to give.
New York, NY (PRWEB) November 19, 2015
xAd, the leader in location-based marketing that enables marketers to reach the right people based on the real places they visit everyday, is helping global relief and development organization, Oxfam America, reach shoppers at moments during the holiday shopping season when they are most likely to donate. Nearly half of the world's population — more than 3 billion people — live off of just $2.50 a day. This year, holiday shoppers in the U.S. have a unique opportunity to give meaningful gifts to family and friends that will help communities around the world break free from poverty with the Oxfam Unwrapped program.
"xAd is proud to give back to worthy organizations like Oxfam America to help people live better lives all around the world," stated Monica Ho, Head of Marketing at xAd. "By knowing where a person is, xAd understands a consumer's current mindset. With real-time location data and technology, xAd can help Oxfam America identify and activate key audiences when they are most likely to give."
By listening to 300 billion mobile ad requests each month across more than 30,000 popular mobile applications, xAd has unique insights on mobile consumer behavior and patented technology to influence that behavior. The location-based mobile advertising campaign will target people around three primary locations: Oxfam America's out-of-home media placements at PATH stations, bus shelters and airports; at grocery stores that carry relevant magazines where print ads are, plus malls and shopping centers when audiences are in the gift-giving state of mind. The campaign will run Nov. 21 to Dec. 31, focusing on key markets that include Atlanta, Boston, Chicago, Denver, Los Angeles, New York, Philadelphia, San Francisco, Seattle and Washington, D.C.
In addition to the mobile component, Oxfam America's 2015 holiday campaign will be featured nationally in an integrated marketing push that includes outdoor, print and online ads, as well as a social media presence on Instagram, Facebook and Twitter.
Oxfam Unwrapped has been helping those in need during the holidays since 2005. In ten years, it has raised approximately $130 million for families and communities in need worldwide. Oxfam's Unwrapped gifts offer items that symbolically represent the organization's lifesaving work. The gift catalog has a list of charitable gifts that can provide clean water, life-sustaining crops, or education opportunities for children, including popular gifts such as a $50 goat, $25 building tools, and an $18 pair of chickens. Each purchase made through Oxfam Unwrapped is a contribution toward Oxfam's many programs that help people living in poverty throughout the world.
"A gift from Oxfam's Unwrapped catalog is one that helps a person or community in need," said Stephanie Kurzina, vice president for development and communications at Oxfam America. "By giving something as simple as a pair of chickens, you are helping a person provide for his or her family with food; the gift of a water pump can help a community during times of drought or emergency. For ten years, people from around the world have given the gift of helping others during the holidays with Oxfam Unwrapped."
xAd previously worked with Oxfam America on an urgent relief campaign following the devastating earthquakes in Nepal in May 2015. Running for just one week during Internet Week New York, xAd showed how real-time location can identify the right audiences and moments to reach them to drive action. xAd's Nepal relief campaign raised $10,000 that equated to emergency shelter for 1,000 families affected by the earthquakes.
Learn more about the Oxfam Unwrapped program: http://www.oxfamamericaunwrapped.com.
About Oxfam America
Oxfam America is a global organization working to right the wrongs of poverty, hunger, and injustice. We save lives, develop long-term solutions to poverty, and campaign for social change. As one of 17 members of the international Oxfam confederation, we work with people in more than 90 countries to create lasting solutions. To join our efforts or learn more, go to http://www.oxfamamerica.org.
About xAd
xAd enables real-time, location-based marketing, without the guesswork. Working with xAd, marketers can deliver more relevant, personalized messages to the right people they want to reach, based on the real places they visit everyday. Each month, xAd's patented location platform helps marketers reach over 300 million people globally via more than thirty thousand popular mobile applications. With xAd, marketers can say goodbye to assumptive marketing and reach the right people at real places in real-time with precision, relevance and confidence. Learn more: http://www.xad.com.